Can't Go Native
Produced and edited by David Plath. 2011. 56 minutes.
In English.
Conversations In Mizusawa
Produced and edited by David Plath. Conversations chosen by Ishizawa Makiko. 2011. 58 minutes. In Japanese with English Subtitles.
More About Mizusawa
Produced and edited by David Plath. Directed by Chet Kincaid. 2011. 90 minutes.
In English.

Study areas: Japan, Anthropology, Rural Japan, Japanese Language Study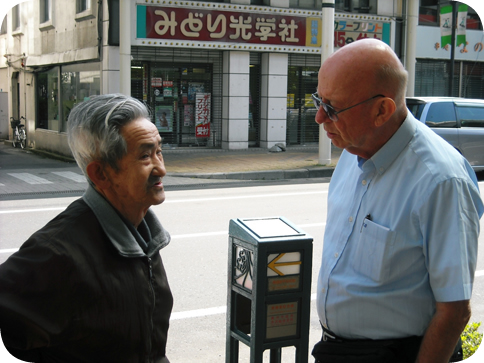 Why would an Iowa farm boy become an anthropologist and devote his entire career to the study of a rural community in Japan, visiting regularly, sometimes for extended visits, over the course of 50 years? How have the people in that community affected the life of this American academic, and how have their lives changed over 50 years? Over time, the bond between the American anthropologist and the people grows so strong that in many ways he becomes a part of the community. But can he ever really be one of them? Can he really "go native"?

The documentary film Can't Go Native answers these questions—and more—with a very personal look at anthropologist Keith Brown's relationship with the people of Mizusawa, Iwate Prefecture. Produced by Brown's colleague and friend, anthropologist David Plath, Can't Go Native? and the supplementary DVD More About Mizusawa are valuable resources for educators and others who want to enrich their knowledge of rural Japan. A third DVD, Conversations in Mizusawa, uses dialogues from Can't Go Native? as tools for Japanese language study.

Can't Go Native

Straddling the fine line between an anthropologist doing fieldwork and a member of the community, in Can't Go Native? we see Keith Brown with the people who have become his friends. Brown's own roots in rural America—he was born and raised on the Iowa State University farm in Ames, Iowa—allow him to relate with ease to the people in Mizusawa, many of whom are farmers. Conversations with taxi drivers and shop owners, visits to religious and historical sites give us insight into how his ties to the people of Mizusawa have deepened over 50 years.

This film provides the viewer with an up-close view of what anthropological fieldwork often is—the sore back from planting rice, participating in neighborhood trips to hot spring resorts, finding out that your suppositions about a culture are not always valid, learning to use the vocabulary of the people you are investigating rather than what you learned in the language classroom, discovering that getting your hair cut is a valid way to gather information, and that sometimes one has to draw the line and not treat everyone and every situation as an object of your studies. Those lessons come across much more clearly and with greater weight in this film than sitting in a classroom listening to a lecture or reading a book.

The film also draws larger conclusions about 50 years of change in a part of rural Japan which rarely—until the recent March 11 Fukushima nuclear disaster in the area—received any attention outside of Japan. From a time when very few people had cars to a time when most families have more than one vehicle, from a time when sushi was a luxury to today, when most people can eat it whenever they want, Brown has chosen to see it all by bicycle, a means of transportation which allows him to take in the changes and the constancies, and which allows him to dismount at a moment's notice to chat with a shopkeeper or a neighbor.

But the film also shows how deeply personal relationships can develop when one goes from being an observer to being an active member of a community. When one of Brown's earliest acquaintances passes away, he realizes that he must return to Japan for the funeral; he is no longer an anthropologist, but a member of the Mizusawa community. He has come very close to "going native."

Conversations in Mizusawa

Japanese language students in the US spend the bulk of their time listening to and repeating model conversations, memorizing vocabulary, and learning grammatical rules. This may be supplemented by watching anime or movies in Japanese, but all of these are scripted exercises. Rarely do language students have the opportunity to learn from spontaneous encounters with native Japanese speakers.

Conversations in Mizusawa includes six unscripted, spontaneous excerpts--At the Railway Station shop; A Dish of Curry Udon; At a Bike Shop; At a Liquor Store; In City Hall; and At Takahashi-san's House--recorded during the filming of Can't Go Native? The beauty of these exchanges between Keith Brown and the citizens of Mizusawa is that he is not a native speaker, meaning that he occasionally makes mistakes. For language learners, there's always that fear that the person you're trying to communicate with won't understand you, or will laugh at you when you mispronounce a word or stumble on a verb.

But everyone he encounters understands him perfectly well, and he gets what he needs—whether it's a can of coffee, noodles made his way or the local gossip. What better reassurance to a language student could there be than proof that an ordinary American who has made a sincere effort to learn Japanese can be successful in his conversations? It's likewise comforting to know that all that work memorizing vocabulary and dialogues will result in actually being able to communicate with people.

All six scenes are presented twice--with and without English subtitles. The excerpts were selected by University of Illinois Japanese language instructor Makiko Ishizawa, who also prepared the Teacher's Guide available on the film's website, with detailed lesson plans, vocabulary lists, and additional resources.

More About Mizusawa

Imagine sitting around at a family gathering listening to your favorite uncle tell fascinating tales about his fieldwork in Japan to his cousins, who in this fantasy world are Japan experts in their own right. More About Mizusawa allows us to learn by eavesdropping on these conversations that Brown has with his relatives. Were samurai really the "cowboys of Japan"? What did they do for a living? Where are their descendents today and how do they perpetuate the samurai tradition today? How does Buddhism play out in the lives of ordinary people in Mizusawa? What are the rites and rituals that are associated with Japanese Buddhism? How does Mizusawa fit into the larger picture of Japan, Asia and the world, both in historical and modern times?

The "serious" talk is interspersed with memories of mixed bathing, planting rice, sharing tea with neighbors, and social missteps, and through them we learn a good deal not only about how to do fieldwork, but about valued cultural traditions and human relations. And as Brown puts it, his local celebrity status makes him the "Paris Hilton" of Mizusawa.

All of these tales are illustrated by home videos which visually present everything he has described—a visit to the home of a descendent of a Mizusawa samurai, a day trip to Hiraizumi (one of the newest UNESCO world heritage sites), the home butsudan (Buddhist altar), his visit to a cemetery, the home where he first lived. You could do worse than spending some time with "Uncle Keith" and his friends via this DVD.

The Can't Go Native? website (www.cantgonative.com) includes Teacher's Guides for all three DVDs as well as updates on Mizusawa since the March 11, 2011 disaster. It also includes additional information on the people associated with the project and links to radio interviews and published reviews of the film. Also included on the Can't Go Native? DVD is a special segment on the how the soundtrack was created, by Jason Finkelman, composer and performer of the film's music.
Anne Prescott is the Director of the Five College Center for East Asian
Studies in Massachusetts and coordinator of NCTA programs in New England
and upstate New York. She received her PhD in ethnomusicology from Kent
State University and is active as a Japanese koto performer and
lecturer.
Photo Credit: Chet Kincaid

Can't Go Native, Conversations In Mizusawa, and More About Mizusawa
are available at: www.cantgonative.com

DVD Prices are:
Can't Go Native $60.00
Conversations In Mizusawa $20.00
More About Mizusawa $40.00
Prices include instiutional public performance rights.

Last Updated: January 13, 2012