A Grandpa From Brazil
Directed by Nanako Kurihara. 2008/2011. 58 minutes.
In Japanese and Portuguese with English Subtitles

Study areas: Nikkeijin, transnational migrant worker, Japanese émigrés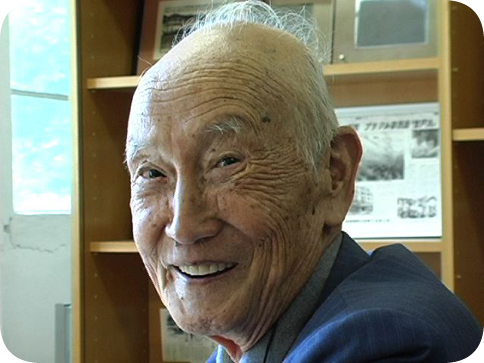 "Brazil is good for having fun; Japan is good for making money" states Mr. Narimatsu, one of 312,000 Brazilian Nikkeijin (immigrants of Japanese ancestry) living and working in Japan. He and his wife run an obento-ya (lunch box service) and restaurant that caters to Brazilians working in Shiga prefecture, Japan. Grandpa Konno elicits this insightful comment when he asks Mr. Narimatsu if he is able to save money in Japan. The film, A Grandpa from Brazil, holds many gems such as this one; the unusual (and perhaps accidental) ethnographer is 92-year old Ken'ichi Konno, a Japanese émigré to Brazil in 1931. He steadfastly returns to Japan for about a month each year to "get some distance from Brazil, to understand what's going on there and to see how Japan is doing." The film follows one of his trips back to Japan to check on Brazilian workers and their families, make connections with Nikkeijin related non-profit organizations, and visit public sites (such as museums) which are of importance to past and current emigrants and immigrants. One of the main strengths of this film is the way the camera captures the empathy and caring that Grandpa Konno extends to the people with whom he interacts.
From the late 1800s through to the early 1930s, the Japanese government encouraged single and poor (young) men to emigrate; common destinations included Hawaii, North America, South America, and Southeast Asia. While it was common for families to immigrate to Brazil, it wasn't uncommon for single second- third-or fourth sons to emigrate singly as well. In fact, the government supported their emigration through the efforts of the Rikkokai – an institution specifically established to prepare young people to emigrate. Grandpa Konno talks to Rikkokai staff, who underscore the lack of hope in Japan in the late 1920s and early 1930s. Grandpa Konno remarks that he was encouraged to immigrate to Korea but due to the cold weather in Korea, chose Brazil instead. He notes with irony that given what happened in/to Korea, the person who told him to emigrate there was "an idiot."
The film provides two close-ups of Brazilian Nikkeijin families: the Narimatsu's live in Shiga prefecture and operate a lunch box store and restaurant that caters to Brazilian workers and tastes; the de Silvas live in Fukuyama, Hiroshima prefecture and work at a lumber mill and construction company. Grandpa Konno spends some time at the Narimatsu restaurant talking to them and to their customers. The message is clear: people are working constantly. When asked if they are making money, the Narimatsus note that they are making money, so much that they could "spend more [than they do] and still have enough" Grandpa Konno encourages them to stay in Japan only ten years, then go back to Brazil; indeed, he states that by then, they won't even have to work in Brazil; they will have saved enough to live. Grandpa Konno cautions the Nikkeijin not to keep children in Japan longer than ten years – returning to Brazil after more than ten years means that the child can be neither Japanese nor Brazilian.

Grandpa Konno's attention to the da Silvas focuses on the children rather than the parents: Fábio (age 13) and Douglas (age 9). He is happy with Fábio's school standing of being 4th in his class but is worried about Douglas's lack of focus in schoolwork and studies. Grandpa Konno visits both children's schools asking pointed questions to the teachers and principals about Japanese language classes and general integration of Brazilian students into school life; he also asks specifically about bullying. Konno is direct and pointed, putting teachers (and vice-principals) on the spot. Being 92 years old gives him some leeway, it is clear. The film does an excellent job of following the Brazilian Grandpa's every move, showing him to be sensitive, generous, curious, and caring. He fluidly switches between Portuguese and Japanese, making his Brazilian interlocutors feel at ease. They open up to him, talking of their lives in Japan as mainly focused on one thing: work, work, work.
The cinematic aspects of the film are well done. The viewer is provided with glimpses into various parts of Japan: Tokyo, Yokohama, Osaka, Shiga, Hiroshima, and Kobe (Hyogo). Both urban and rural parts of Japan are represented, showing the many places where Nikkeijin live and work in Japan – everywhere, not just in the car manufacturing townscapes. The camera follows Grandpa Konno closely and consistently, allowing the viewer to feel trust for his commitment to and knowledge of transnational working conditions; but the camera work also makes the viewer feel sympathy for Grandpa Konno, especially when he is experiencing moments of nostalgia at visiting places he had been just prior to his own move to Brazil.
This film would complement any course that was interested in transnational migration, transnational workers, and Japanese culture and/or society. Even without additional course materials, the film could easily be introduced to a class given the film's accompanying Study Guide. The Study Guide provides historical background regarding Japanese émigrés in the late 1800s through 1934. It also provides several pages of possible ways for students to engage with the film – content and discussion questions as well as web resources for further investigation of issues related to Brazilians in Japan and Japanese people in Brazil. The film can be used in a secondary or post-secondary classroom. While not going into detail, the film begs for further investigation into many interesting topics including the Japanese government's support of immigration to various locals in the Meiji, Taisho, and Showa period; the educational system's ability to integrate non-Japanese students into Japanese schools; and, the current position of Japanese in Brazil.
Cindi L. SturtzSreetharan is Associate Professor of Anthropology at California State University, Sacramento. She regularly teaches courses in Anthropology and Asian Studies to general education audiences. Her own research areas include linguistic anthropology, regional dialects of Japan, and language ideology.
A Grandpa From Brazil is available online from the filmmaker's website.
DVD Home Use
overseas price $50.00 + delivery and handling fee
DVD institutional use
overseas price $250.00 + delivery and handling fee
(universities, colleges, libraries, and other public facilities)
A study guide in English is availble free to download from the website.
http://nanakokurihara.com/mediaangelos/

Last Updated: September 4, 2012