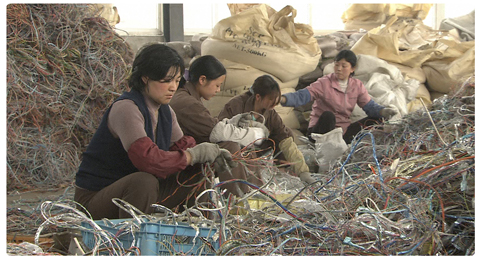 Produced by Japan Broadcasting Corporation (NHK). Directed by Takehiro Asai. 2006. 49 minutes. English narration with parts spoken in Japanese and Chinese with English subtitles.
Trash Trade is an insightful, multi-faceted look at the emergence of the recycling industry and the consequences of the transnational trade in trash, especially between Japan and China. Japanese municipalities used to struggle to collect, process, and dispose of the millions of tons of newspapers, plastic bottles, electronics, and other waste discarded daily. Technological advances in recycling along with growing demand for raw materials enabled recycling to become a profitable industry in Japan. The relationship between domestic recyclers changed, however, once Chinese businesses entered the arena.
Trash Trade chronicles the emergence of the trash trade by following Japanese city officials, Japanese and Chinese businessmen, and Chinese workers as trash is transformed into new products. These interweaving narratives enable the filmmakers to address a number of interconnected processes. First and foremost, Trash Trade illuminates the way in which economic globalization is transforming business practices around the world. Once considered an unfortunate byproduct of ever-growing consumption and a burden for municipalities, trash has become a valuable source of raw materials for new products. The global demand for raw materials has become even more acute as the Chinese landscape does not possess the natural resources necessary to fuel its booming factories. Chinese businessmen thus began buying Japanese waste and shipping it back to China. Chinese workers receive far less money than their Japanese counterparts, thus making it economically viable to buy trash and ship it thousands of miles. For a Chinese couple shown in the film, however, the daily wage they can earn sorting through trash is much more than they could make as rice farmers, thus enabling them to send their children to school.
Trash Trade also touches on the darker side of transnational recycling: namely, the environmental and health costs of processing plastics and especially electronic waste. Chinese workers melting computer boards are exposed to toxic fumes with only small fans and flimsy cotton masks to protect them. Moreover, heavy metals and toxic chemicals seep into the groundwater, threatening the health of millions of people downstream from backyard recycling centers. Although the shipment of toxic waste is governed by the Basel Convention, as Trash Trade shows, the sheer volume of trash being traded makes it virtually impossible to ensure that banned materials do not slip through. Interweaving the stories of Japanese medical waste being shipped to the Philippines in 1999 with the discovery of banned waste merely days after Japanese government officials visit China, the movie shows how sensitive the Japanese government is about its international reputation.
As an educational device, Trash Trade provides a platform for discussion of an array of issues, including economic globalization, the environmental impacts of consumption in the industrialized world, business strategy in a global context, and the ethics of sending toxic waste to a place with minimal environmental enforcement. Although it is appropriate for junior high to adult audiences, it may be too slow and meandering for younger students. Also, the significant use of subtitles for the Japanese and Chinese interviews may make viewing difficult in large or younger classes. The various threads, while important for telling a more comprehensive story, are distinct enough that judicious fast-forwarding could highlight one or two points for specific audiences or lessons.
Trash Trade could also be used as a starting point for a number of interesting student projects. Requiring students to collect the defunct toys and electronic devices or plastic bottles in their home, for example, could simulate the role of consumption in the trash trade. Students could be asked to search YouTube for videos of trash workers around the world, while the website for the UN Basel Convention offers a number of striking visuals displays of trash production, processing, and flows. A fieldtrip to a local recycling center or trash dump would also give students better insight into the lives of those working in the trash trade, from sorters to bulldozer operators. More advanced students could do comparative research projects on the trash trade in other parts of the world, such as that from Canada to Michigan or Germany to Ghana. Similarly, students could conduct research on the cancer and "dumb?villages that have sprung up around and downstream from backyard recycling centers in China.
Trash Trade admirably addresses an important topic, and thus would make a valuable addition to high school, city, and university libraries.
W. Chad Futrell is a Ph.D Candidate in Development Sociology at Cornell University. He has published on desertification and sandstorms, wetlands and migratory waterfowl, transnational environmental movements and civil
society in China and South Korea.
How to Purchase: Trash Trade: Selling Garbage to China is available from Filmakers Library. Purchase of DVD or VHS (with screening rights) is $295. Classroom rental of VHS is $85.

Last Updated February 5, 2009