Japanland

Directed by Karin Muller. 2006. 225 minutes.
Narrated in English

Study areas: East Asia, Japan, Arts, Description and Travel, Contemporary Urban Life, Philosophy and Religion, Buddhism, Folk Arts, Local Customs, Martial Arts, Shintoism.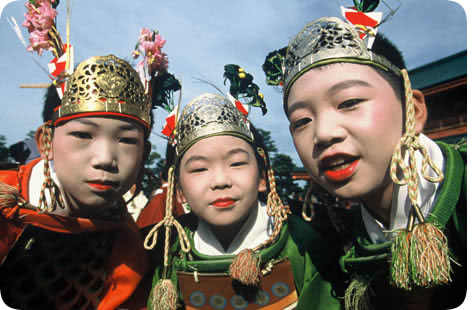 Journeys in Japan: the Japanland DVD set

Japanland, a two-disc DVD set based on a PBS TV series which first aired in 2005, has now been reformatted especially for classroom use but will be of interest to anyone curious about Japan. Told from the perspective of Karin Mueller, a solo-traveling Japanese-speaking documentary filmmaker, (see bio below) Japanland contains 24 short segments grouped into four chronological episodes, each segment lasting 2-8 minutes in length, ideal for classroom use. The episodes cover three thematic areas: contemporary urban life, religious practice, and folk arts. Each episode, as well as each short segment, can be viewed either individually or in the chronological order of Mueller's year-long trip, accessed through a convenient DVD menu.

Japanland is really two stories, intertwined: Karin Mueller's personal quest to find the "real" Japan, and the story of Japan itself. Mueller initially traveled to Japan to gain a fuller understanding of the cultural context for the judo she had practiced for years. Says Mueller, "I wanted to improve my judo, and also to get a fresh perspective on the meaning of my life. I wanted to understand Eastern ideals as ritual and tradition. I was in search of wa: a transcendent state of harmony, of flow, of being in the zone."

Embarking on this year-long journey, Mueller becomes an active participant in Japanese life, introducing us to a wide range of Japanese people and places, She explores pachinko parlors, lives with a pre-Buddhist mountain ascetic cult, joins a samurai-mounted archery team, and completes a pilgrimage around the Inland Sea island of Shikoku, visiting 77 sites. Mueller's uniquely personal way of telling the story, added to her carefully planned and beautifully shot cinematography, adds a feeling of intimacy to what in other hands might have become an ordinary travelogue.

Teachers of all grades and a variety of subjects: social studies, material culture, martial arts and religion will find exciting classroom material here. No prior knowledge of Japan or the Japanese language is required (Mueller narrates the story in English). The 2 DVD set is available for $29.95 on the website www.japanlandonline.com, as is the companion book. Additional curriculum materials are on a separate website, www.japanlandjourney.com. Part personal saga, and part window on a culture that is often difficult to penetrate, this DVD set is an ideal purchase for librarians and educators, or anyone planning to travel or live in Japan. And even if you aren't planning your travels yet, Japanland will make you want to start.
Karen Mueller
Karen Mueller is an author, adventurer and photographer-filmmaker. Born in Switzerland, fluent in five languages, she has made it her life's work to travel to interesting places, alone and with notebook and camera, for many months at a time, seeking to understand and communicate the cultures she visits.
Mueller's first project was Vietnam. She traveled the length of the Ho Chi Minh Trail, with a backpack and the Hi-8 video camera she was using for the first time. The effort resulted in the PBS documentary Hitchhiking Vietnam and an accompanying book. She has since gone on to make Traveling the Inca Road for National Geographic, the record of her 4,000 mile trek from Ecuador through Chile, followed by a year-long journey through Japan to produce the PBS series Japanland (see article). Mueller is currently finishing work on two more documentaries, one on Cuba and another on Chad and Sudan.
Of special interest to educators will be Mueller's involvement with a unique educational organization, Take-2: The Student's Point of View, whose stated mission is "to turn teenagers into global citizens." Mueller's way of accomplishing this goal is to offer high school students throughout the U.S. the opportunity to create their own documentaries about world issues. She downloads and sends her own raw footage from conflict zones accompanied by translated text and supplementary material. Students then research, edit and produce their own documentaries which are screened publicly and shared with other schools. For more information on this project, and/or to become part of it, go to www.take2videos.org.
Dr. Nancy Jervis is the Program Director of the Asian Educational Media Service (AEMS). She is a cultural anthropologist specializing in film and East Asia, and was vice president, director of education and editor of an award-winning curriculum guide for K-12 teachers during her 20 year tenure at China Institute in New York City.
Last Updated: November 29, 2010