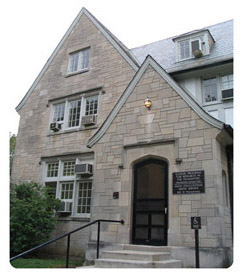 About the Library
The AEMS Media Library maintains a collection of high-quality videos and curriculum materials, as well as some CDs, traditional games, and newsletters. These are available for viewing or browsing in the library and for loan to local patrons.
The library is open to the public; university affiliation is not required.
If you live in central Illinois, you may sign up for an AEMS Borrower's Card. Please come in to sign the AEMS Borrower Agreement, which we ask all borrowers to adhere to.
AEMS is a member of the Illinois Heartland Library System, which covers 28,141 square miles and serves a population of 2,248,634. There are 585 member libraries: 41 Academic, 229 Public, 259 School and 56 Special in southern and part of central Illinois. As of July 2008, patrons at any LTLS member library may borrow from the AEMS library through interlibrary loan.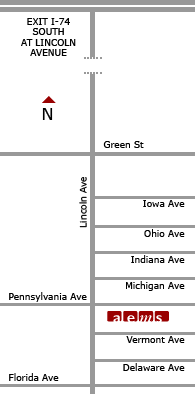 Hours
Monday 12PM-5PM
Tuesday 9AM - 12PM
Wednesday 9AM - 1PM
Thursday 9AM - 1PM

For appointments outside of
these hours please
phone (217) 333-9597 or
email aems[at]illinois.edu
to schedule a visit.
Phone
Library Asst: 217-265-0640
Toll-free: 888-828-AEMS (2367)
Address
805 West Pennsylvania Avenue
Room 211 (second floor*)
University of Illinois at Urbana-Champaign
Urbana, Illinois 61801
Parking
Metered parking is available in the parking lot behind our building (one spot) and along Pennsylvania Avenue, west of Lincoln. Street parking east of Lincoln is by permit only until 3:00 pm.




*We regret that our library is not handicapped accessible. Please call if you are unable to visit; we are happy to work out alternative arrangements.
Finding Items
Please come visit the library during our the hours listed above to browse our shelves. You can search for items using the LINC online catalog. To search only items in the AEMS collection, conduct an advanced search (under the "LINC catalog" tab), and select "Asian Educational Media Service" from the Location Menu. Fill in your search terms and click "Go."
Obtaining Items
You may of course borrow items in person at the AEMS Media Library during our library hours. You may also place requests online using the LINC online catalog. When you request an item, you can choose any Lincoln Trails library as your pick-up location (e.g., the Champaign Public Library, or most school libraries in the area). Similarly, if another library has an item that you want, you can choose to pick it up at AEMS.
Managing Your Account Online
To log into your account using the LINC catalog, click on Login to My Account in the top right corner of the LINC screen. Use the barcorde number on your AEMS borrower's card; your PIN is the last 4 digits of the phone number you provided us (click on "Profile" to change your PIN). Once you are logged in, you may place holds, renew items, see what you have checked out and their due dates, and much more.


Search Our Collection
The search tool below searches a subset of the records in the AEMS Database, selecting only those records that we hold in our library collection. For more information or to search the entire database, see our AEMS Database page.
Last updated: September 9, 2013