Directed by Vivian Price. 2006. 62 minutes. In English, Thai, Chinese, Hindi, Urdu, and Japanese, with English subtitles.
Study areas: women's studies, gender studies, economic development, urban studies, labor studies, India, Japan, Pakistan, Singapore, Taiwan, Thailand, anthropology, sociology, globalization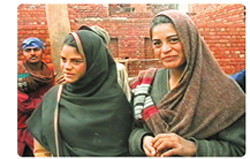 This is perhaps the first and only film to take a close look at the experiences of Asian tradeswomen—those who work in the construction industry as laborers and in blue collar, skilled craft occupations While the critical role that women play in factory manufacturing under the impacts of globalization is widely acknowledged, Asian women are not often recognized for their part in actually building the many edifices that have sprung up in urban centers across this region. An earlier film, Made in Thailand by Eve-Laure Moros and Linzy Emery (Women Make Movies, 1999), does contain a fascinating segment about a woman who works with her husband in construction; however, its focus is on women in multinational manufacturing. Price's film, then, remains unique in its subject-matter.
Transnational Tradeswomen makes a number of key points: It implodes the stereotype of weak and submissive Asian females and shows that they still face discriminatory and oppressive work situations. It reveals that attempts to modernize the construction industry via mechanization has often meant a loss of work for women as, not unsurprisingly, such jobs go to men. The film also argues that while second-class citizenship for women in construction is a universal phenomenon in countries of the global south as well as the north, the situations vary from place to place. The women we see in Asia are basically confined to unskilled, heavy labor rather than being trained or working in skilled construction jobs. Yet, we learn that even here, there are considerable skills to be mastered.
Transnational Tradeswomen represents a personal project born out of filmmaker Vivian Price's own experiences working in factories, refineries, and construction sites. It is a political project as well because of her commitment to equity and women's issues and her determination to reach a broader audience. Her previous film, Hammering It Out looked closely at the experiences of women in a construction training program in California. Currently, Dr. Price teaches in Interdisciplinary Studies at California State University-Dominguez Hills
The film presents a series of vignettes encapsulating trips throughout Asia, beginning with the United Nations World Conference on Women in Beijing in 1995 and continuing on to Thailand, Taiwan, Singapore, India, Pakistan, and ending up in Tokyo in 2005. Price utilizes still photographs and archival footage as well; she relies on in-country scholars and filmmakers to conduct the interviews and shoot the film in the two places she was unable to personally visit (Pakistan and Japan).
The Beijing conference sets the theme of the film; at a workshop on women in construction, the participants discuss their mutual problems. However, some issues, such as the rape and abuse of poor, young girls from northeast Thailand in the labor camps, are more specific to certain countries It is through the connections made in Beijing that Price continues her journey, visiting not only construction sites, but interviewing workers in their homes and associations and meeting with various scholars and activists.
In Thailand, despite their low wages (less than $4 a day in 2004) and need to migrate from site to site, the women Price interviews state that they are better off now after migrating to the city from the rural areas as construction work provides an income and they receive more than a domestic worker. These women appear high up on scaffolding and some were acknowledged to be skilled in cement plastering and installing ceramic tile. In Taiwan, while there are fewer women working in construction, some do come at a young age and there are often couples and whole families working together. Again, it is lack of income in the rural areas that propelled them to the urban areas. However, the burgeoning economy of Taiwan is now home to more foreign workers who are likely to take these jobs.
The segment on Singapore presents the fascinating story of Samsui women and men recruited from China during the late nineteenth and early twentieth centuries who came to work in construction, paying much more than factory employment at the time. Price weaves this history through old black and white photos and a brief interview with an elderly surviving worker. During the 1970s, this occupation was mechanized and reframed as a male sphere. The women then had to sell vegetables and cardboard on the streets in order to survive. Ironically, the Samsui women have now been exoticized, appearing on phone cards and in popular culture, while the government "celebrates?them.
The two segments on South Asia—India and then Pakistan—present something of a contrast to each other in terms of how the women expressed themselves regarding their situation.. India has a large number of women working in construction who are usually either low caste or tribal women. They openly expressed their dissatisfaction and there is significant activism among them and support from the outside. Nonetheless, their main work remains carrying bricks and they are excluded from skilled jobs such as masonry, even when trained. The segment on Pakistan was brief and less satisfactory as the filmmaker could not go there and had another person film and conduct interviews. Here, the viewer gets no sense of the extent of women engaged in this work nor of possible difficulties they may encounter. It was difficult to assess the nature of their experiences.
The last part of the film moves to Tokyo and features three women: Masami, a confident truck driver who tells of teasing and harassment from coworkers; Yoshiko, an older woman who likes the work she does with her husband as a carpenter; and Keiko, an electrician and single mother. While she also likes her job, she complains about not being treated well and feels bad about having to work since she has had her child.
The film ends with the question, how comparable are the diverse experiences of women in Asia (the "south? to those in the West (the "north?? The "global south?has been used to refer (as Price does) to developing nations; while the "global north?to the developed ones. A good place to begin class discussion would be to explore how useful these overarching terms are to understanding issues raised in the film. For example, Japan and Singapore are clearly not "developing?countries that may be glossed as part of the "global south?when that term is used (as Price does) to indicate a commonalty of economic conditions. Why is this so? Similarly, the validity of the statement that women in the north work in construction by choice, while those in the south ?em>simply find it a way to survive?is also complicated. How do the women in Japan differ from those in the West? Are all women in the north working by free choice? While these and other questions arise, and the varied segments are incomplete and leave much out of the picture, the film is definitely a useful one that reveals a silent aspect of women's lives. It will be informative for students in high school through college.
Miriam Sharma is a Professor of Asian Studies at the University of Hawaii. Her teaching and research interests lie in Asia (particularly South Asia) and issues relating to gender, agrarian relations, colonialism and migration.
How to Purchase: Transnational Tradeswomen is available on DVD and VHS from Women Make Movies. Prices are: for universities, colleges and institutions, $195 for purchase and $60 for rental; for K-12, public libraries and select groups, $89 for purchase.
Last Updated: March 7, 2008