Last Train Home

Directed by Lixin Fan. 2010. 87 minutes.
In Mandarin and Sichuan dialect with English subtitles.

Study areas: Modern China, Industrial China, Rural China, Migrant Workers, Gender.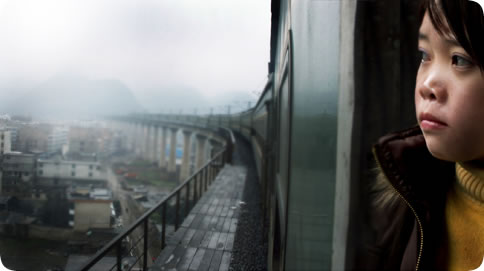 Depending on which source you consult, there are between 130 and 230 million migrants workers in China today who travel long distances across the country in search of better paying jobs and an escape from a life of farm drudgery or low wage local work. In the first images of the poignant 2009 film, Last Train Home, it seems that all 200 million migrants are on the same railroad platform in coastal Canton (Guangzhou), crowding into trains for the once-a-year trip home for the month-long Chinese New Year celebration in late winter. ("If we can't make it home for New Year's," one fellow says despairingly, "life is not worth living.") The first scenes are staggering: a sea of people pushing people, entreating officials, jumping over barriers. Amidst a million heartrending dramas, the film quickly focuses on a husband and wife (Zhang Chuanghua and Chen Suqin), who only at the last minute obtain hard-to-get tickets to travel 1,200 miles to see their teen-aged daughter Qin and younger son Yang, whom they left in the care of elderly granny on a pitifully poor farm in rural Sichuan. They are the Everyman -and woman- of China today.
In Guangzhou, Mr and Mrs Zhang live a bare, austere life reminiscent of Dickensian London. They sleep on the lower bunk of a narrow cot in a crowded dorm, with the ubiquitous bucket in which they wash both bodies and clothes, a small table, and barely enough room for the two of them to stand. Food is unappealing grub from a communal dining hall. Leisure is quickly eating their bowl of rice on the factory steps, smoking at the factory entrance, or making an occasional foray to shopping malls downtown. But mostly they work. Men and women, girls and boys—all day and frequently into the night--bend over sewing machines, racing to fulfill their quotas, dwarfed by stacks of pants bound for elsewhere. And then there are the children--babies sleeping on any flat surface, youngsters racing around machines--whose presence exposes the absence of social welfare services for migrants.
But Mr and Mrs Zhang did not bring their children with them. For 17 years they have lived to work in the factory so that their children could have a good education and a better life than their own, returning home only at New Year's, their sacrifices clear on their careworn faces. This documentary chronicles three years and multiple trips--and what trips they are! The same problem securing train tickets, followed by a grueling 36-hour train ride through lush, visually stunning vistas. Then they board a ferry, and finally take a bus for the last leg to their village and farm with waiting children and the elderly, the picture of the Chinese countryside today.
At this point, everyone seems happy as Mom and Dad dole out presents and the Chinese Mom admonishes her son to do better in school. What gradually emerges, however, is the unhappiness at the heart of the family, expressed first as tension between mom and daughter. It becomes clear that instead of staying in the countryside to help granny with farm work and brother with schoolwork, Qin is aching to drop out of school, to join her friends going East, to get a job, to see the world beyond the pigsty—which she finally does, slipping out one day, walking down the road.
The film then reminds us that this flood of humanity, like migration everywhere, is not about individuals acting alone but about social networks. Men are now migrating with wives—and sometimes families. Qin joins friends who help her get her first job –and, unlike her parents, she spends her wages on cosmetics, a haircut, nice clothes. Once East, she and her parents are in constant contact--they call, they visit, they implore her to go back, and then, the next New Year's, they come to take her home where, after a sullen trip back, the family explodes. Volatile Qin expresses both her long-simmering sense of abandonment and her refusal to succumb to her parents' unrelenting pressure to stay—cursing first her mother and then her father, with whom she trades real fisticuffs. "This is the real me," she taunts the camera --and her parents.
The last train of the title, though, is not Qin's but, surprisingly, her mom's, who acts to prevent the family's last hope, Yang, from following in his sister's footsteps. To lose a daughter to the lure of the Chinese East is one thing; to have a son drop out of school is unthinkable. It would mean the failure of those 17 years of sacrifice and thus pushes Suqin to leave her husband and return to the farm to ensure that their son's advanced education—and support for their own old age.
This is a documentary about the clash of values and generations in a China undergoing rapid transformation. How do we explain what we see on the screen? Market forces that rupture the traditional family? The ultimate strength of Confucianism? The legacy of gender differences and belief in male superiority? Market savvy nature of Chinese peasants? All of the above? There is enough in this ultimately complicated film to serve as basis for many classroom discussions. I teach courses in survey Asian history, Asian women's history, modern Chinese history, and world history, and I will use this film in all four. Together with the film "China Blue" that focused more exclusively on young women migrants like Qin, plus profiles from books like Leslie Chang's Factory Girls, Peter Hessler's Country Driving, and James Fallows' Postcards from Tomorrow, this film will help illuminate rural migration, economic development, the transition from a socialist welfare model to an uncaring capitalism, gender in China, the impact of the birth control system, the conditions of the elderly, the state of Chinese agriculture, and the many China's—rural/urban, educated elite/poor workers, interior/coastal. There are multiple uses of this thoroughly unsettling and ultimately wise film, which doesn't editorialize but leaves the viewer to interpret the sounds of that last train going home, accompanied by a mournful folk tune from the past.
Sue Gronewold is chair of the History Department at Kean University in Union, New Jersey. The author of Beautiful Merchandise: Prostitution in China 1870-1937, she writes on women in China, Shanghai and mission history, history and memory. She has taught for NCTA and frequently leads teacher groups to Asia.
Last Train Home is distrubuted in the U.S. by Zeitgeist Films. Educational Purchase or Rental Institutional DVD Sale: $139 For Public Libraries, Public Schools and Non-Profit Institutions. $195 For Universities and Private Institutions.
Last Updated: January 31, 2011