The Fruit of Our Labor: Afghan Perspectives in Film
Produced by Community Supported Film. 2010. 114 minutes.
In Dari and Pashto with English Subtitles

Study areas: Central Asia, Post-War Studies, Documentary Filmmaking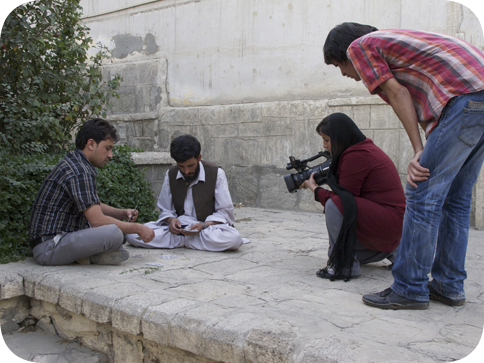 What are everyday Afghans doing to improve their lives and rebuild their country for future generations? The Fruit of Our Labor: Afghan Perspectives in Film is one answer to this question. The film is comprised of ten short documentaries created by Afghan filmmakers during a documentary training session provided by Community Supported Film (CSF), a Massachusetts-based not-for-profit organization. While the films provide little background and explanation for the situations portrayed, they do give succinct depictions of how people are striving to survive amidst the challenges of a poorly functioning government and infrastructure, underemployment and a history of ethnic strife.

The strength of each film is how it serves as a window onto the lives of ordinary Afghan men and women in their pursuit to improve the country and their own livelihoods. For instance, L is for Light, D is for Darkness portrays one woman's efforts to daily recruit more girls in her village to attend the one-room school where she teaches. It offers a rare (for westerners) view onto the lives and dress of women within the their homes and courtyards. Water Ways depicts the men of two villages working to build a canal to access water to drink and water their crops. Bearing the Weight is a glimpse into the pain and struggle of women who have become disabled due to having an arm or leg amputated. The film centers on Shafiqa, a middle-aged woman who lost her leg in her youth in a rocket attack. Despite her pain, she has been able to provide for her remaining family members by sewing and teaching other young women how to design and sew clothes. Taken together, the films give a balance of perspectives from both men and women. Teachers can research the background of each filmmaker and also read about each film on the CSF website: http://csfilm.org/.

The filmmakers do not shy away from the harsh realities of the lives of Afghan people, yet their struggle to endure and to survive is evident in each of the vignettes. For this reason, the films may serve not only as a window on Afghanistan, but also as a mirror for students to reflect upon challenges that they may have seen young people struggle with today, from challenges to education, to physical disabilities, to addiction, to poverty. The messages spoken by the Afghan people throughout the films are that, "We cannot wait for foreigners to help us. We must help ourselves" (Hands of Health), and, "We must all work, regardless of gender, regardless of ethnicity" (Beyond Fatigue). Those are lessons we could all learn from.

The films would be appropriate within the context of a unit on Afghanistan or other post-war countries in high school or post-secondary social studies or humanities classes, in anthropology classes dealing with Central Asia, and in documentary filmmaking classes.

Angela Williams is the Associate Director of the Center for South Asian and Middle Eastern Studies. She completed her MA and BA in Linguistics from the University of Illinois at Urbana-Champaign, and has studied Arabic at the Arabic Language Institute at the American University in Cairo. She has also taught Arabic at Parkland College in Champaign. She is currently working toward a doctorate in the College of Education, focusing on Middle East-related curriculum development and teacher education.

The Fruit of Our Labor: Afghan Perspectives in Film is distributed by Community Supported Film.
DVDs are $25 for private use and home screenings, and $250 for institutional use and public screening.
Last Updated: April 25, 2012