North Korea Nuclear Test
On October 9, 2006, the government of the Democratic People's Republic of Korea, or North Korea, announced that it had conducted a successful underground test of a nuclear weapon. On October 16th, U.S. intelligence agencies confirmed this, and on October 14, the U.N. Security Council voted unanimously to impose sanctions on North Korea. (historically, China and Russia (both permanent members of the Security Council) have been very reluctant to openly oppose North Korea in such a way.)
The history behind North Korea's decision to perform these tests is complex and involves intricate international relations between South Korea, the People's Republic of China, Japan, Russia and the U.S. stretching back to the Korean War (1950-53) and earlier.
Below are a series of links to resources on the internet that we hope will be helpful to secondary and college educators teaching about this recent incident. Feedback and further suggestions are always welcome.
North Korea's Nuclear Push
List of National Public Radio reports on the topic. Includes timeline of North Korea's nuclear program and a link to editorials published around the world
North Korea-Diplomacy and Deterrence - List of stories at the Washington Post.
News from the Korean Central News Agency of the DPRK (Democratic People's Republic of Korea) - Official news organ of North Korea
Official North Korean announcement of successful nuclear test
Coverage of the North Korea Nuclear Test by the Korea Herald, South Korea's English-language newspaper
What Will Stop North Korea - by Charles Krauthammer (10/12/06) commentary for the Washington Post
We Need a New Deterrent - by David Ignatius(10/11/06) commentary for the Washington Post
"North Korea Should Be More Realistic"
An interview with Ban Ki Moon, foreign minister of South Korea and recently appointed United Nations Secretary General(10/15/06)
Reported Test 'Fundamentally Changes the Landscape' for U.S. Officials - Analysis by Washington Post staff writer Glenn Kossler(10/9/06)
Analysis From Professor Bruce Cumings, professor at University Of Chicago and North Korea expert, on Democracy Now radio program -(10/11/06)

North Korea's Flag
Editorials from The Economist:
Unsanctioned (10/16/06)
A regime as rickety as his own (10/12/06)
North Korea: The nightmare comes to pass (10/12/06)
The UN Resolution 1718: The sanctions against the People's Democratic Republic of Korea (North Korea) (10/15/06)
President Bush's Remarks on UN Security Council Resolution on North Korea (10/14/06)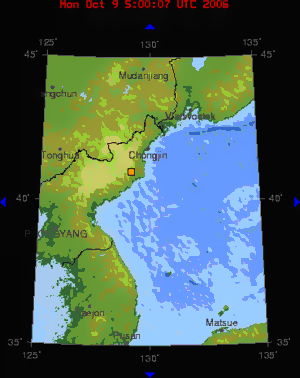 USGS map of siesmic activity during the test.
Nuclear Asia: Has the World Gone M.A.D.? (10/06)
North Korea: This Is Not Just About A Test (10/06)
Nuclear Asia: The U.S. and North Korea - Interview with Jay Lefkowitz Special Envoy on Human Rights in North Korea for the U.S. government(6/20/06)
Nuclear Test: North Korea defies UN in testing bomb - Scholastic News(10/9/06)
Lesson Plans on North Korea and Nuclear Weapons
North Korea's Nuclear Weapon Test from AskAsia.org
North Korea and Nuclear Weapons - October 2006 from the Choices Program, Teaching with the News
North Korea, the U.S. and the Nuclear Threat by Alan Shapiro, for teachablemoment.org
North Korea Lesson Plans: Nuke Numbers and Get the Whole Scoop! from Scholastic
Face-Off: United States Foreign Policy with North Korea (grades 7-12) from PBS Frontline World
Teacher's Guide to accompany PBS Frontline episode "Kim's Nuclear Gamble"
Lesson Plans on Nuclear Weapons Generally
Controlling Nuclear Weapons: Debating the Non-Proliferation Treaty by Lisa Prososki for NewsHour with Jim Lehrer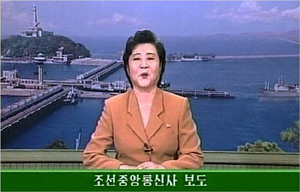 In this image taken from North Korean television, a broadcaster reported on the nuclear test.
Lesson Plans on Historical Background
The Korean War (grades 9-12) by Lara Maupin for Discovery Education.
Divided Peninsula: Six Decades of Military and Political Tension in Korea (grades 7-8) from PBS Wide Angle
Web Resources on North Korea in general:
Asian Studies Virtual Library: North Korea
BBC Country Profile: North Korea
Resources on nuclear weapons issues in general:
NuclearFiles.org A Project of the Nuclear Age Peace Foundation
Who's Next to Go Nuclear Commentary by Andrew Grotto for the Washington Post
Last Updated July 27, 2012