Manufacturing in China: The Toy Scandals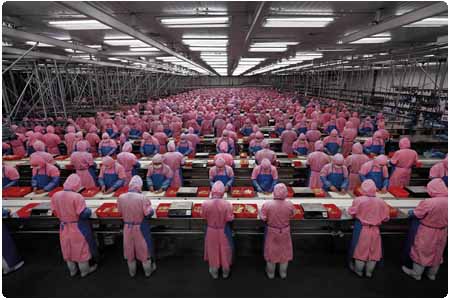 Photo title: "Manufacturing #17", Deda Chicken Processing Plant, Dehui City, Jilin Province, 2005. Edward Burtynsky
The Economist's China Page
An excellent place to find a plethora of articles most of which concern varying aspects of Chinese manufacturing (i.e. lead paint, working conditions, laborers, pollution etc.)
"China Bars Exports by 750 Toy Maker" By David Barbaroza, New York Times, November 2, 2007.
"Mattel Official Offers an Apology in China" By Louise Storey, New York Times, September 22, 2007.
"Exponential Power of Chindia" By Partha Iyengar and Jamie Popkin, BusinessWeek, September 20, 2007.
General information about the growing economic power of China and India
"Software Allows Importers to Monitor Chinese Quality Control from Any Location Via the Internet" Mass Media Distribution Newswire, September 18, 2007.
"Toy Stories – Let's All Blame China" The Age, September 17, 2007.
"China 's Response to Toy Recall" (video) BBC World, August 15, 2007.
"Chinese Mirrors"
By Rick Pearlstein, The Nation, June 7, 2007.
Lengthy book review that discusses many issues in China and between China and the U.S. including manufacturing. Gives a very thorough vision of the big picture in which the problem of Chinese manufacturing may be contextualized.
"Good Luck Competing Against Chinese Labor Costs," By Richard McCormack, Manufacturing and Technology News, May 2, 2006 (13/9).
"Problems Go Beyond Lead Paint, Canadian Studies Say" By David Barboza, The New York Times, September 11, 2007
Article that opposes the view that recent health concerns regarding Chinese produced U.S. toys are entirely the fault of China, arguing that it is predominantly design flaws (made by US companies) rather than manufacturing flaws from China that cause toy recalls.
"Manufacturing Myths" By Alan Reynolds, CATO Institute (originally appeared in The Washington Times), August 31, 2003.
An article seeking to dispel misconceptions regarding Chinese manufacturing, from a libertarian perspective.

Wide Angle Window into Global History: "One Nation Two Futures" Lesson Plan by Melvin Maskin
Produced by "Wide Angle," the in-depth international news program from WNET New York City (PBS), the lesson plan focuses on China's economic reform (including manufacturing and cheap labor) and how it has created a broad gulf between the tiny upper and middle classes and the majority of the country. Lesson plan contains a variety of suggestions for altering the plan to fit different grade levels and suggestions for how to introduce it into an AP course. Also contains video clips and a wide collection of internet resources for teaching the subject.
Wide Angle Window into Global History: "Extreme Global Makeover" Lesson Plan by Yolanda Betances
Another extensive, sensitive and detailed lesson plan from "Wide Angle" discussing the issue of manufacturing and cheap labor in China, India, and Japan.
"Made in China" Series
This is a blog series written by Andrew "Bunnie" Huang that follows the manufacturing in China of a specific computer appliance called "Chumby." His blog is a first hand account of what he learned when visiting the Chumby factories and details the many different aspects and conditions of Chinese manufacture and factory cities. The blog contains countless videos that illustrate his points and allow readers a direct window into the world of Chinese manufacturing. Huang's informal language and focus on computer technology should spark the interest of high school and college students alike, making it a valuable tool for teaching this "hot" topic.
"China Makes, The World Takes" By James Fallows, Atlantic Monthly, July/August 2007
A feature story accompanied by a 7-minute narrated slideshow about the manufacturing system in the new city of Shenzhen in southern China, from retail to a company that connects foreign companies with outsourcing opportunities to the factory floor. Available by subscription only?
"Endless Assembly Lines and Giant Cafeterias; Inside China's Vast Factories" Slideshow by Ed Burtynsky
A slideshow on Chinese manufacturing with commentary from the photographer that offers insights into various topics, including workers' lives, environmental concerns, Western perspectives, and the stance taken by the Chinese government. Good introductory tool for K-12 students.
Film/Video Resources
Search AEMS Database for more information on these videos
China Blue, 2006, 88 minutes
Directed by Micha X. Peled
This documentary film shows us a sweatshop in southern China from the inside. We follow the daily lives of two teenage girls who work on the assembly line sewing blue jeans, get to know the factory owner, meet buyers from the U.S. and Europe. The filmmakers get remarkable access to the sweatshop from the top down (some of it clandestinely) and even follow the girls home to visit their families. The films shows us the human side of a cruel system. Highly recommended for teens and adults; there is no age-inappropriate material. A study guide is available at http://www.bullfrogfilms.com/catalog/china.html.
A review will be published in the Winter 2008 issue of the AEMS newsletter .
Mardi Gras: Made in China, 2005, 60 minutes
Directed by David Redmon
This documentary film confronts both cultural and economic globalism by humanizing the commodity chain from China to the United States . Redmon follows the stories of four teenage women workers in the largest Mardi Gras bead factory in the world, providing insights into their economic realities, self-sacrifice, and dreams of a better life, and the severe discipline imposed by living and working in a factory compound. Interweaving factory life with Mardi Gras festivities, the film introduces workers and festival-goers to each other through video. A dialogue results when bead-wearing partiers are shown images of the teenage Chinese workers and asked if they know the origin of their beads, while the factory girls view pictures of Americans exchanging beads, soliciting more beads, and decadently celebrating. Recommended for teens and adults. Note that uncut version includes scenes with partial nudity; a PG version is available, which omits the nudity and curse words. Trailer and more information available here: http://www.mardigrasmadeinchina.com.
A review was published in the Spring 2006 issue of the AEMS Newsletter.
Manufactured Landscapes, 2006, 90 minutes
Directed by Jennifer Baichwal
Photographer Edward Burtynsky is internationally acclaimed for his large-scale photographs of nature transformed by industry. This visually stunning documentary by award-winning director Jennifer Baichwal follows Burtynsky to China , as he captures the effects of the country's massive industrial revolution. Locations in South Asia are also featured. The film is an artistic meditation on human endeavour and its impact on the planet. For a trailer and more information, see: http://www.mongrelmedia.com/films/ManufacturedLandscapes.html
Last Updated July 27, 2012