Protests in Burma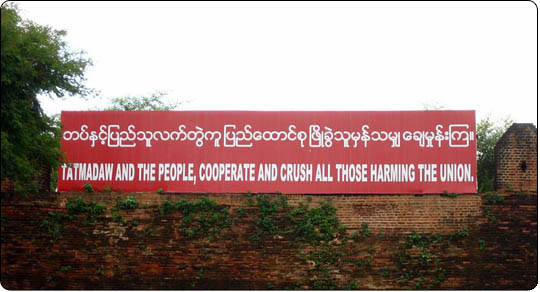 Government Poster, Mandalay, Burma by Racoles
The BBC News
The best and most abundant articles on the situation in Burma are from the BBC. This page links to all the stories and includes an exclusive BBC video of Burmese life.
*Links to and descriptions of a few specific BBC articles are included in the following list.
"Burma stands defiant against Generals" The Age, Sept. 26, 2007
A detailed and thoughtful article about the beginning of the Burmese monks' protest in September, 2007.
"Burma: Protests fast accelerating into Uprising" Statement by the Asian Human Rights Commission, Sept. 23, 2007
Describes the escalating protests in Burma from the perspective of an organization seeking to promote human rights.
"Chinese Dilemma" By Michael Bristow, BBC News, Sept. 25, 2007
China's reaction to the protests in Burma and the political reasons that have this traditional supporter of the junta's hands tied.
"The Government's View" BBC News, Sept. 25, 2007
Excerpts from the propaganda speeches the Burmese government has sent out over the radio in the past few days to skew things their way.
"Brown calls for harder EU stance on Burma if leadership 'makes wrong choices'" By Thomson Financial, Forbes Online, Sept. 25, 2007
British Prime Minister's response to the protests and Burma and the junta's threats of serious consequences for the protestors.
"Junta takes back control in Burma" By Marc Hujer, Jurgen Krem and Andreas Lorenz, Spiegel Online International, Oct. 1, 2007
An thorough inside look at the brutal crackdown on Burmese protestors including a discussion of whether or not the junta's actions can or will quell the "Saffron Rebellion".
"Monks return to the streets of Burma" BBC News, Oct. 31, 2007
After more than a month of absence caused by bloody crackdowns, harsh curfews, and imprisonment, the monks of Burma have once again taken to the streets in protest of the military junta.
"Burma monks not ready to forgive" By Reena Sethi, BBC News, Nov. 14, 2007
A BBC reporter's account of her trip to Mandalay where she received rare access to one of the monasteries and was able to converse with some of the monks who led and are planning to lead peaceful protests against Burma's military junta.
"Burma army 'recruiting children'" BBC News, Oct. 31, 2007
Details and motivations behind a recent report made by Human Rights Watch stating that Burma's military employs children soldiers in combat situations, as well as falsifying reports regarding the use, treatment, and recruitment of those children.
"U.N. urges Myanmar to stop using child soldiers" By Claudia Parsons, Reuters, Nov. 23, 2007
U.N. Secretary General Ban Ki-Moon announces that Burma's junta and two rebel groups are violating children's rights by recruiting children under 18 in the military and calls for a release of all children currently in military service as well as wider access to the problem areas.
"Burma rebel group denies child soldier claims" ABC News, Nov. 25, 2007
One of Burma's rebel armies recently accused along with the government of utilizing child soldiers argues its case. This article and the two that precede it compliment the lesson plan on universal children's rights.
*For further developments in the news about this ongoing situation in Burma, please visit the BBC and other online news organizations to obtain the most recent updates.

"Q&A: Protests in Burma" BBC News, Oct. 2, 2007
A Q&A compiled by the BBC to explain the origin of the protest in Burma and why protestors, government, and the nations of the world were responding the monks' actions the way that they did.
"The pressure on Burma must be smarter" By Jayne Dullard, The Age, Oct. 2, 2007
Thoughtful examination of the effects of economic sanctions in Burma from someone who lived and worked there that offers an alternative strategy for bringing down the junta and offering real aid to the people. This article will compliment the lesson plan on the use of economic sanctions to promote human rights.
"The other, invisible suffering of Burma" By Gabriele Marranci, The New Nation, Nov. 27, 2007
An excellent analysis of Western and media reactions to the recent protests by the monks in Burma. Would be a great essay to use in the college or graduate classroom but can also be a tool to get high school students to look beyond the surface of the protest and reactions and begin to analyze the big picture.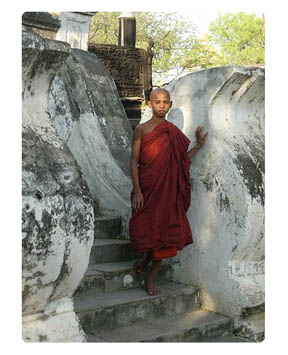 "Population Diversity and Human Rights" By Christine LaPlaca Burrows and Tish Raff
This lesson plan, provided by Discovery Education, is aimed at discussing the pros and cons of using economic sanctions to attempt to promote/encourage human rights in countries such as Burma.
"Powerful Consumers: Exploring Boycotts, Past and Present" By Elyse Fischer
From the New York Times Daily Lesson Plan, this is another lesson designed to get students brainstorming about the potential effects and consequences of a consumer boycott.
"Children's Rights and the Convention on the Rights of the Child" By Amnesty International
Thorough exploration of human rights issues; applicable to any country currently experiencing a threat to human rights, including Burma. Especially targeted at primary school students.
"'Shooting an Elephant': George Orwell's Essay on his life in Burma"
This Lesson plan, produced by EDSITEment, a project of the National Endowment for the Humanities, is aimed at discussing the historical situation in Burma through the lens of George Orwell's autobiographical essay.
"Beyond Rangoon"
This is one of many lesson guides and lesson plans offered by Teach With Movies designed to accompany various videos about Burma. (subscription only).
"Profile: Aung San Suu Kyi" BBC News, Sept. 22, 2007
Thorough but concise biography of the face of Burma's pro-democracy movement.
"Burma: Women Activists in Hiding" By Shah Paung, Infoshop News, Sept. 24, 2007
An account of specific female activists and their personal struggles in Burma. Gives the anti-military government protestors a face and allows students to see how real people are affected.
"The hidden world of Burma's generals" By Sebastien Berger, The Telegraph UK, Sept. 27, 2007
Good article that gives readers a glimpse at the opulent world of the Junta in contrast to the poverty of the Burmese people.
"Burma-Grace Under Pressure" By Geoffrey Hiller
A gorgeously compiled multimedia site that explores Burma , its people, and their past, present and hopes for the future. Wonderful introduction to the country and its issues that will fascinate students and teachers alike.
"Burma"
Basic profile of Burma by the BBC. Appropriate for all ages.
Human Right's Watch
An overview of human rights issues in Burma, together with news reports and briefing papers.
Visual Geography Series: Myanmar
Links to photos, maps, websites with information on all aspects of Burma, and teacher resources (including lesson plans).
Center for Burma Studies, Northern Illinois University
Includes information on academic study of Burma, collections, events and exhibits.
Film/Video Resources
Search AEMS Database for more information on these videos
Burma Diary, 1997, 55 minutes
Directed by Jeanne Hallacy
This powerful and universally acclaimed documentary explores the revolutionary movement fighting for democracy in Burma and depicts how young people, in particular, are affected by the human rights abuses of Burma's dictatorial military government. Burma Diary focuses on a young man, Tint Aung, who was active in the protest movement in college, but has since been driven into exile by the junta. As the film chronicles four harsh years of Tint Aung's struggle to survive, it provides a passionate and at times heartbreaking study of the hopes of and the obstacles facing the Burmese democracy movement. Appropriate for secondary and higher education.
Inside Burma: Land of Fear, 1997, 51 minutes
Directed by John Pilger and David Munro
This documentary is an undercover look at the brutal and uncompromising rule of the military junta in Burma. The filmmakers explore the extreme poverty of the every day people, the stories of those who have been arrested, tortured, killed, subjected to slavery, denied their elected officials and whose plight has gone unnoticed and ignored by the rest of the world. Appropriate for secondary and higher education.

Last Updated July 27, 2012