HIV in Asia
The Huang children, featured in the documentary The Blood of Yingzhou District.
Avert.org
--A non-profit, international AIDS prevention group's overview of HIV in Asia; very thorough and easy to understand.
"HIV/AIDS School-based Education in Select Asia-Pacific Countries"
by Gary Smith & Susan Kippax (National Centre in HIV Social Research, University of New South Wales) and Peter Aggleton & Paul Tyrer (Thomas Coram Research Unit, University of London).
--An academic study and analysis of the way HIV/AIDS and sex education is taught in East Asia, Southeast Asia and the Pacific. *PDF can be downloaded here.
"Sex Work and HIV in Asia " by the MAP (Monitoring the AIDS Pandemic) Network
--A fascinating report of sex workers and their relation to the spread of HIV in Asia. *PDF can be downloaded here.
"Japan only now confronting rising HIV rate: women in sex trade at most risk"
Suvendrini Kakuchi, Chronicle Foreign Service, March 17 2003
--Slightly older article but very informative and still applicable to the present state of HIV and AIDS in Japan. Will provide a good historical foundation for the more recent articles.
"Japan's AIDS time bomb"
By Jonathan Head, The BBC, July 13 2004
--Excellent look at the threat of HIV in Japan including interviews with Japanese youth regarding sex education, AIDS, and social stigmas surrounding condoms and discussing sex with the young that add to the problem.
"HIV-positive Japan MP says getting married"
AFP, March 4 2008
--Discusses one of the most prominent HIV positive figures in Japan and the 1989 blood crisis that is believed to be largely responsible for the introduction of the virus to Japan. The article is both informative and gives a human face to the victims of HIV in Japan .
"Getting HIV in Japan : A True Story"
--A blogger living in Japan writes of learning his ex-girlfriend had contracted HIV, his own fears that he had also caught the virus, and his ex-girlfriend's struggles with HIV and pregnancy. This highly personal story will allow students a look at real people facing this growing problem in Japan.
thebody.com's Japan page
--Really useful website with a plethora of links to news and information on HIV in Japan.
Japan's Response to the Spread of HIV/AIDS
Japan Center for International Exchange, 2004
--A 69 page publication containing a wealth of shorter articles that can be selected from at will including work on the current and future trends of HIV, government reactions and initiatives, corporate and media attitudes etc.
"The Body: HIV & AIDS in Korea"
--Nice collection of fact sheets and news articles discussing HIV/AIDS in North and South Korea.
"Korea: Infected, Detected, Rejected"
By Michael Solis, Ohmy News, April 10 2008
--A fascinating look at both the general status of HIV as well as the treatment of potentially HIV positive foreigners and an in-depth discussion of the successes and pitfalls of Korea 's testing methods.
"HIV Positive Korean-Chinese Man Fights Deportation"
Choshun.com, March 4 2008
--Article that gives students a glimpse at the prejudice HIV positive individuals face in South Korea by telling the story of a Korean-Chinese man who tested HIV positive and is fighting a government order to have him deported to China .
"South Korean Court blocks plan to deport HIV patient"
Agence France-Presse, April 18, 1008
--Follow up: the court's ruling on the previous article.
Migration and HIV: vulnerability assessment among foreign migrants in South Korea
Korea UNAIDS Support Center, 2004
--A 69 page publication containing diverse shorter articles on HIV/AIDS including transmission and conception, sexual activity, condom use, sex education and HIV/AIDS.
Avert.org's page on China
--This page gives a more detailed, in-depth look at HIV/AIDS in China to supplement and expand on the site's general Asia page. It is an excellent overview of historical information as well as explanations of the differing estimates of the number of HIV/AIDS cases in China .
"China to Develop HIV Prevention Campaign aimed at MSM"
Kaiser Daily Health Policy Report, Feb. 22 2008
--Discusses a recent move by the Chinese government to prevent the spread of HIV and AIDS among men who sleep with men (MSM). Contains many useful statistics and information about the proliferation of HIV in China and what is being done to counter it.
"AIDS Activists Speaks at C.U. About Epidemic in China"
By Elena Kwan, The Cornell Daily Sun, Feb. 21 2008
--Article contains much useful information about the AIDS epidemic and AIDS activists in China as well as discussing the reaction of Americans and American students to the crisis.
"China's HIV Crisis"
By Bates Gill, Jennifer Chang and Sarah Palmer, Foreign Affairs , March/April 2002
--An informative 10 page article analyzing the various factors that have led to and fueled the rise of HIV/AIDS in China .
"HIV is 'out of control' in India"

The BBC, April 19 2008
--Informative article about the rapid spread of the AIDS epidemic in India including the belief that the official numbers generated by the government that represent the virus's presence in India are incorrect.
"Female Condom for Rs 5 in India"
By Kounteya Sinha, The Times of India, March 6 2008
-- India 's new program aimed at protecting its female population from contracting AIDS when men refuse to wear condoms. 40% of the AIDS infected population in India are women.
"HIV in India"
By Suniti Solomon and Aylur Kailasam Ganesh, July/August 2002
--A concise essay that analyzes the spread of HIV/AIDS in India and examines social factors and prejudices as well as problems regarding treatment and offers an opinion on how these issues may begin to be addressed.
Avert.org's page on India
--This page gives a detailed, in-depth look at HIV/AIDS in India rather than the general overview provided by its page on the whole of Asia . It contains a wealth of information on history, preventative measures, area of the population most affected, discrimination and a breakdown of the virus's status in each individual state.
"Crossing Boundaries: The Environment, Disease and Conflict in Asia"
provided by National Geographic
--This lesson plan aims to guide students towards a better understanding of the various political, physical and other boundaries that separate Asian countries and the roles they play in the spread of various conflict and problems between nations, including a focus on HIV/AIDS. This lesson plan provides a framework within which students may explore the big picture AIDS paints across Asia.
"The Spread of AIDS"
provided by National Geographic
--A broader lesson plan aimed at exploring the spread of HIV/AIDS and how it has been affected by global transportation and trade.
"Outbreak! Contextualizing the Global AIDS Epidemic"
provided by The New York Times
--A lesson plan designed to teach students about the AIDS academic across numerous countries including Japan, China, India, Cambodia, and Vietnam. Students create their own media campaigns designed to promote AIDS prevention in a specific country.
Remembering the Cosmos Flower
Directed by Junichi Suzuki. 1998. 103 minutes. Facets Video
Akiko, a high school student and her mother return to their home in a small town in Japan after 7 years in South America. The teenage girl has contracted the AIDS virus. The whole town knows about this even before she arrives and fear they will be exposed to the deadly disease. As Akiko copes with her illness her childhood friend Natsumi, transforms her fear of Akiko's sickness into a solid support and protection, confronting the community. With Akane Oda, Megumi Matsushita.
The Blood of Yingzhou District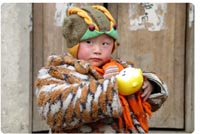 Directed by Ruby Yang. 2006. 40 minutes. Cinema Guild Inc.

"Extend your arm, bear the pain of a needle. Then flex your arm, 50 Yuan is earned. This was one of many jingles created by blood banks in China, which rural people committed to memory. But due to unsafe practices, thousands of impoverished Chinese contract HIV and other diseases through contaminated blood, often leaving behind orphaned children to raise each other or depend on compassionate families for support. Hong Kong-born filmmaker Ruby Yang and award-winning producer Thomas Lennon followed these orphans in the rural villages of Yingzhou District for one year. One of them, Gau Jun, was abandoned by his family and refuses to utter a word. He is a victim of social stigma and a government that has failed to support its citizens. Neighbors prevent their children from playing with him, and his own extended family rejects him, fearing their own children will be isolated. The Blood of Yingzhou District is a stunningly shot, sensitive portrait of a hidden AIDS epidemic in a country not commonly associated with the disease. The film follows Gau Jun silently as he becomes part of a family and is accepted for the first time as the beautiful, wondrous child that he is." --Nina Gilden Seavey, http://www.silverdocs.com
*Winner, 2007 Academy Awards, Best Documentary Short
This film was reviewed in the Fall 2008 issue of AEMS News and Reviews (PDF download).

China on the Inside: Episode IV, Freedom and Justice
2006. PBS Video
"Religious worship in China is problematic for Tibetan Buddhists, Catholics separated from Vatican influence, the 40 million adherents of China's unofficial churches, and the Falun Gong. Civic problems include forced evictions, government cover-up of AIDS, corruption and land grabbing. Filmed in Tibetan temples, newspaper offices and a labor camp, this final episode asks: what are the limits of freedom--and the threats to stability?" --Press Release
Educator resources available at http://www.pbs.org/chinainside
Pandemic: Facing AIDS
Directed by Rory Kennedy. 2003. 150 minutes. Moxie Firecracker Films (also available from amazon.com).
A video aimed at raising awareness of the international spread of AIDS including segments on India and Thailand, focusing on the havoc HIV/AIDS has wreaked on the lives of Lek, a Thai sex worker, and a married couple in India. The remaining segments are not focused on Asia but nevertheless provide a contrast by showing the way other countries (Brazil, Russia, and Uganda) deal with the outbreak of the virus.
This film was revieed in the Fall 2005 issue of AEMS: News and Reviews (PDF download)
Also available: Educational packet to accompany the documentary Pandemic: Facing AIDS. Includes basic disease information, statistics, profiles, and stories of individuals from around the world who have been diagnosed with AIDS.
Last Updated: July 27, 2012