Embrace (Huaibao)

Directed by Dan Smyer Yu and Pedma Tashi. 2011. 55 minutes & 30 minutes (for classrooms). Tibetan, with English subtitles.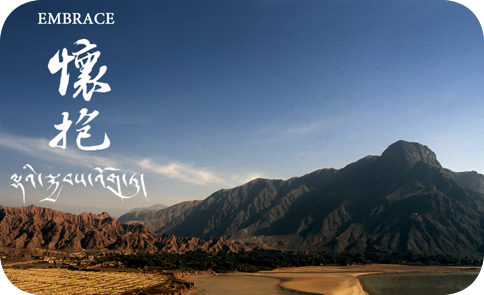 Directed by Pema Tseden. 2011. 88 minutes. In Tibetan, with English and Chinese subtitles.
Study areas: Asia, Tibet, Buddhism, Ecology, Conservation, Modernity
For the first time in Chinese film history, facilitated by digital video technology, Tibet talks back to its metropolitan state in its own voice. Made to represent the Tibetans themselves in their mother tongue, emerging Tibetan cinema, be it documentary or drama, expresses resistance to the pressures of materialistic modernization and market economy imposed by China.
Embrace, directed by Dan Smyer Yu and Pedma Tashi, is a documentary about Tibetan sacred mountains and rivers told by two tantric yogis, father Babu Tashi and son Pedma Norbu, from a remote village in the Amdo area on the Qinghai-Tibet Plateau. Narrated through the religious exposition of a plethora of mountain and water spirits, with detailed descriptions of their arms and appearances, the film is infused with majestic mountain scenery and mystic ritual scenes which, however, are disrupted by messy mining shots in the end. Shots of mechanical cranes and smoking chimneys present a striking contrast to the orally constructed images/imaginings of magnificent gods and goddess. The verbal and visual interrogations throughout the documentary deftly reveal the directors' ecologic and ethnographic concerns. A caption against a diagonal mountain silhouette under a blue sky and white clouds relates them nicely: "After thousands of years the landscape has become people's mindscape." Now if the sacred land is polluted, can the secular mind escape contamination?
Being a Buddhist, Babu Tashi remembers that there used to be numerous goats, elks, and musk deer in the forests, because people then refrained from hunting, for they believed that wild animals were their mountain gods' family members and that they had no right to slaughter them. As a Tibetan medicine master, he decries people's rapacious, extinctive uprooting and deflowering of medicinal herbs, which he regards as "blessings from the mountain gods." Also a spiritual practitioner, he has the mantras to control rainfall and prevent hailstorms, but does he have the magic to exorcise industrialization and stop the cranes? After all, sustainable development is only rhetoric, if not a ruse, used by the hegemonic power to exploit the natural environment of the holy highland. Still, we may hope, as the final caption states wishfully: "The ancient lineage of the tantric yogis has been passed on to this day. Tibetans will continue to live in the embrace of this earth" – the earth vividly depicted by the old yogi as the body of a Big-Bellied Spirit on which man preys upon natural nuisances (upon the likes of bugs biting his abdomen) and bring catastrophes such as earthquakes and tsunamis.
Following the New Chinese Documentary Film Movement, the directors adopt the mode of "direct cinema" or "observational documentary" in their discovery of the soul mountains as a space of social commentary. Seemingly supernatural and exotic in content, the interviews invoke local protective deities in the running clouds to defend the homes of the ordinary, powerless, and marginalized native Tibetans against excessive consumption of their natural resources in the name of economic development. The result is a critical representation of bleak reality under the guise of religion. When soil pollution and massive deforestation "anger the spirit," greedy humans will be punished, one way or another. Such is a karma pictured by the camera.
If Embrace employs mythology as its method to critique modernization, Old Dog takes demystification as its means to resist commodification. The third feature – after The Silent Holy Stones (2005) and The Search (2009) – of Pema Tseden, the first Tibetan-language filmmaker in China, Old Dog has won several prizes, including the 2011 Golden DV Award at the Hong Kong International Film Festival. A slow, documentary-like, music-free (save songs recorded on the street) movie using sync sound, it tells a simple story from the everyday life of a local semi-settled herding family. The film's title refers to the Tibetan mastiff, a species that has become the world's most expensive dog worth as much as 1.6 million dollars, and hence a hot item on the black market. The "old dog" also symbolizes its aged Tibetan herdsman, Akhu Drakpa, and the conventional nomadic values he stubbornly embraces in an age of mammonism – portrayed as a lousy TV commercial program selling discounted gold necklaces.
Yang Zhijun, author of the Chinese epic trilogy Tibetan Mastiff (Zang'ao, 2005-2008) which was adapted into the Sino-Japanese animation The Tibetan Dog (2011, dir. Masayuki Kojima), laments in the first chapter of his collection of essays, entitled The Spirit of Tibetan Mastiff (Zang'ao de jingshen, 2012): "These years I often travel to the plains, but in nowhere can I hear stories about Tibetan mastiffs. What I've heard and seen are all about how to collect, traffic in, and trade Tibetan mastiffs, as well as their astonishing high prices. Tibetan mastiffs have their prices now, yet no more stories. Is it good or bad?" (p. 21) Or sad? Old Dog may be the last story of this ancient breed, which, according to Yang, evolved from giant Himalayan hyena more than ten million years ago and was domesticated six thousand years ago. Dubbed "dragon dogs" by ancient Chinese for their prowess and "lions" by native Tibetans for their features, Tibetan mastiffs were deified as warrior-gods in the Tibetan epic Gesar and became legendary as Genghis Khan's ferocious dog legion, whose descendants in Europe have been theorized arguably to be ancestor to all service dogs in the West.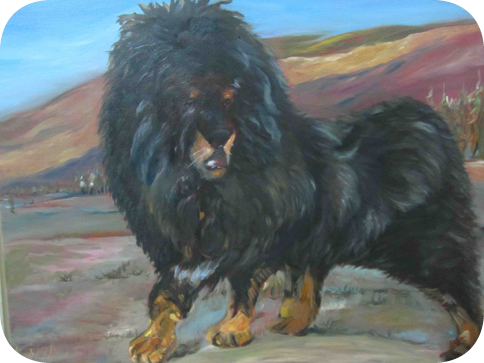 Yet Old Dog is not about the mythos of the mastiffs, but the ethics of the market. As demand for Tibetan mastiffs rises and the price of the prized dog skyrockets, almost all of the canine in the village are stolen. When his son Gonpo sells the old dog to the Han Chinese buyer Wang for a bargain price of 3,000 yuan ($490) before it is thieved, Akhu Drakpa manages to retrieve it with the help of a township policeman. Rejecting higher offers from 4,000 to 20,000 yuan ($650-3,300) by an old fellow villager's son, he finds his dog drugged outside at night. He frees it on the mountain, but is soon told by the police that it was taken by Wang, who is seriously injured by Gonpo because of this. Gonpo has no job and is now jailed and, most worrisome to his father and wife, sterile. While the old man criticizes the villager's son for forgetting his hunter-father's tradition, particularly the love of nomad mastiffs, his own son also fails to carry on the family lineage. The younger generation of Tibetans are thereby portrayed as emasculated biologically (unfertile), culturally (unlearned), and economically (unemployed) under Chinese control.
As purebred Tibetan mastiffs become rare on the plateau today, the mountain dogs are sold as pets in modern cities, where they are groomed and medicated. Removed from ice-bound and snow-covered high altitude and forced to live at hot and humid sea level, from their wild world coexisting with wolves and leopards around to the urban comforts of cars and carpets, they are doomed to be degraded as common dogs or, even worse, objectified as mere status symbols for their wealthy owners. But this is not the fate of the old dog in the film as it is finally brought back to the mountain and strangled by its poor old master. There is neither blood nor carcass on the screen, only the sound of breathing and a straightened, shaking chain suggesting the futile struggle of an old dog. The closing scene is a deadly quiet one lasting for nearly seven minutes, in which a lonely arched back slowly walks away toward the cloudy skies. It at once mourns the death of the nomadic spirit and calls for a resistance against the market economy. With such a shocking, unexpected ending that powerfully allegorizes the endangered Tibetan existence and confronts the wild Chinese , it is not surprising that the film is banned in China.
The Chinese colonists' exploitation of Tibet is exhibited in Old Dog as an economic issue reflected in the twentyfold difference between the Han Chinese trafficker's 1,000 yuan ($163) initial offer and the Tibetan buyer's 20,000 yuan final bid, and inEmbrace as an ecologic problem in terms of an uncompromising disharmony between the conservation of Tibet's natural environment and the continuation of China's industrial development. Coincidentally, the two stories are about two generations of Tibetans, both focusing on the fathers' attempts to preserve the tradition as their sons are either able or unable to maintain it. Pedagogically speaking, both indie films are recommended for teaching ecology and area studies of Tibet and China, while Embrace can also be used in a classroom to instruct about Tibetan Buddhism and Asian anthropology.
Howard Y. F. Choy is associate professor of Foreign Languages and Literatures at Wittenberg University. A journalist and theater critic from Hong Kong, he is the author of Remapping the Past: Fictions of History in Deng's China, 1979-1997 (2008) and a number of articles in major scholarly journals, including positions, American Journal of Chinese Studies, Transtext(e)s Transcultures, and Asian Theatre Journal.
Last Updated: October 21, 2013