AEMS Educator Workshop:
Teaching about the Khmer Rouge: Cambodia (1975-1979),
and Islamist Dreams, Women's Realities in Southeast Asia
Saturday, November 10, 2007
9:00 a.m.-12:45 p.m.
Springer Cultural Center
Film Screening to follow at 1:00 p.m.
In conjunction with the Asian Film Festival 2007: Southeast Asian Popular Cinema, the Asian Educational Media Service (AEMS) at the University of Illinois at Urbana-Champaign is pleased to offer an opportunity for local educators—K-12 and beyond—to engage with Southeast Asian film as a tool to teach about culture and society.
Although teachers at all levels are invited to attend, those at the secondary level will likely benefit the most. This workshop will feature presentations focused on specific films shown at the film festival. The films will be screened at Boardman's Art Theatre in downtown Champaign on Friday and Saturday; all showings are free and open to the public.
Schedule:
9:00 – 9:15 a.m. Registration (Springer Cultural Center)
9:15 – 10:15 a.m. Islamist Dreams, Women's Realities in Southeast Asia
10:30 – 11:30 a.m. Teaching About the Khmer Rouge: Cambodia (1975-1979)
11:45 – 12:45 p.m. Thai Lunch and Conversation
1:00 – 2:00 p.m. Screening: Out of the Poison Tree (Boardman's Art Theatre)
Workshop #1:
Islamist Dreams, Women's Realities in Southeast Asia
Love for Share
Nelly Van Doorn-Harder's presentation on woman and Islam in Southeast Asia will draw on 2 feature films: Love for Share (Indonesia, screens Friday at 7 p.m.) and Sepet (Malayasia, Saturday at 6 p.m.) Van Doorn-Harder is the Patheja Chair for World Religions and Ethics at Valparaiso University. Her studies of Islam in Southeast Asia and Christianity in the Middle East focus on gender studies, inter-faith issues, and contemporary daily practices. Before coming to Valparaiso University in January 1999, Van Doorn-Harder taught Islamic Studies at a university in Yogyakarta, Indonesia, and helped initiate an Institute for the Study of Religion and Interfaith. Her recent publications include Women Shaping Islam: Indonesian Women Reading the Qur'an (University of Illinois Press, 2006).
Workshop #2:
Teaching about the Khmer Rouge: Cambodia (1975-1979)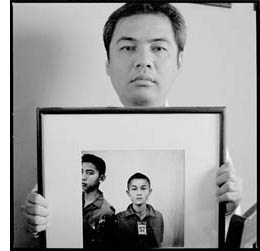 Out of the Poison Tree
Judy Ledgerwood will present a workshop guiding educators on teaching about the Khmer Rouge genocide in Cambodia, with reference to the documentary film Out of the Poison Tree as a resource. Professor Ledgerwood is a cultural anthropologist whose research interests include gender, refugee and diaspora communities, and the transnational movements of people and ideas. Her current research is focused on Cambodian Buddhism and ideas of cultural identity. Professor Ledgerwood's dissertation was on changing Khmer conceptions of gender in Khmer refugee communities in the United States. She teaches general cultural anthropology, anthropology and human diversity, history and theory of anthropology, women in cross cultural perspectives, Asian-American cultures, anthropology of gender, and peoples and cultures of mainland Southeast Asia at Northern Illinois University. Her new edited book, At the Edge of the Forest: Essays on Cambodia in honor of David Chandler, will appear from the Cornell Southeast Asian Studies Program in 2008.

Download Registration Form (54KB)
Registration Deadline:November 2, 2007
Registration Fee: FREE
To Register: Please complete and send the Registration Form to the Asian Educational Media Service at:
Southeast Asian Film Workshop
Attn: Jason Finkelman
Asian Educational Media Service
805 West Pennsylvania Avenue
Urbana, IL 61801
FAX: (217) 265-0641
Tel: 217-265-0640; email: finkelma@uiuc.edu
Meals : All registered workshop participants receive a Thai lunch.
Location: Springer Cultural Center, Rm 207, 301 North Randolph, Champaign. Find on Google Maps.
Parking : Off-street parking is available near the Boardman Art Theatre and the Springer Cultural Center in Champaign.
Special Needs: If you have any special dietary or access needs, please fill out the relevant section of the registration form.
Last Updated
October 19, 2007