Asian Film Festival 2007: Southeast Asian Popular Cinema
November 9-10, 2007
Boardman's Art Theatre
126 W. Church Street
Champaign, Illinois
Free and Open to the Public
Seating will be first come, first served, and theater will be cleared between screenings. Presented by the Center for East Asian and Pacific Studies and the Asian Educational Media Service. Special thanks to our co-sponsors.

Download Program (1,598 KB)


Download Flyer (308 KB)


Download Poster (560 KB)
Screening Schedule
Friday, November 9
7:00 p.m. Love For Share (Indonesia)
9:45 p.m. Citizen Dog (Thailand)

Saturday, November 10
9:00 a.m. - 12:45 p.m. Educator Workshops: Teaching about the Khmer Rouge: Cambodia (1975-1979) and Islamist Dreams, Women's Realities in Southeast Asia
1:00 p.m. Out of the Poison Tree (USA/Cambodia)
2:30 p.m. Milan (Philippines)
6:00 p.m. Sepet (Malaysia)
8:30 p.m. Singapore Dreaming (Singapore)

The Films: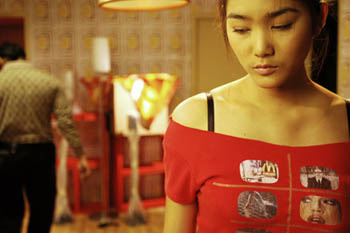 Love for Share (Berbagi Suami)
Indonesia, 2006
Directed by Nia Dinata
120 min. in Bahasa Indonesian with English subtitles
Friday, November 9 - 7:00 p.m.
Suppressed in previous decades, polygamy is on the rise again in Indonesia, the largest Muslim country in the world, and has become a hot social issue, with politicians and celebrities publicly admitting to taking multiple wives. Love For Share brings to life three very different stories of polygamy, from three very different women's perspectives.

In the first story, Salma (Jajang C. Noer), a Muslim gynecologist, tries to live in denial as her politician husband takes his second, third, and fourth wives. A health crisis brings them all together and forces her to evaluate her own life. In the second story, Javanese village girl Siti (Shanty) arrives in metropolitan Jakarta at her uncle's invitation, planning to attend beauty school. After moving in with him, his two wives, and their children, Siti realizes that he has other intentions and soon finds herself his third wife. The third story revolves around Ming (Dominique), a Chinese-Indonesian waitress and aspiring actress whose beauty draws the attention of customers as well as her married boss. Director Nia Dinata, whose previous film Arisan! was acclaimed for its boldness in presenting positive gay characters, her brings a nuance to a complex issue.
Film Website: http://www.kalyanashira.com/berbagisuami/eng.htm
Awards:
• Best Feature Film, 2006 Hawaii International Film Festival
• Indonesia's submission for the 79th Academy Award for Best Foreign Language Film, 2007
• Silver Award, 11th Lyon Asian Film Festival, France 2006
• Best Movie, MTV Indonesia Movie Awards 2006
• Best Director, Best Original Screenplay, and Best Film, Jakarta Film Festival 2006
• Best Film, Best Director, Best Screenplay, Best Art Director, and Best Actress, Bandung Film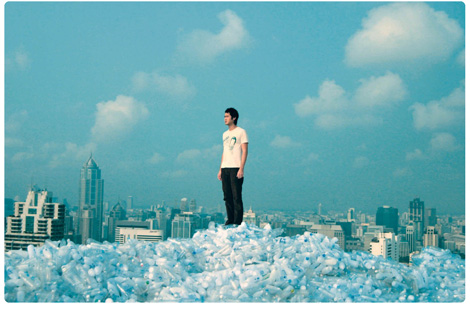 Citizen Dog (Mah Nakorn)
Thailand, 2004
Directed by Wisit Sasanatieng
100 min., in Thai with English subtitles
Friday, November 9 - 9:45 p.m.
This quirky, surreal comedy follows country boy Pod (Mahasamut Boonyaruk) as he tries to make his way in Bangkok. He finds work in a sardine cannery, loses his finger, finds someone else's finger, befriends a zombie, becomes a taxi driver for a foul-mouthed little girl with a whiskey-drinking teddy bear, and meets his grandmother reincarnated as a gecko. Along the way he encounters the love of his life in Jin (Saengthong Gate-Uthong) an office maid obsessed with recycling plastic bottles. Hyper-saturated, kaleidoscopic color punch the visuals, while Thai indie rock bands Modern Dog and Saliva Bastard provide the catchy soundtrack. Citizen Dog's sly social commentary and unique, surrealistic style have garnered praise; its whimsicality and clever editing has inspired comparisons with Jean-Pierre Jeunet's Amelie.
View Trailer.

Awards:
• Best visual effects, 2004 Thailand National Film Association Awards.
• Silver Prize for Most Groundbreaking Film and Bronze Prize for Best Asian Film at the 2006 Fantasia Festival.
• Critics prize, 2005 Deauville Asian Film Festival
• Named one of the Top 10 Best Films of 2005 by Time magazine film critic Richard Corliss.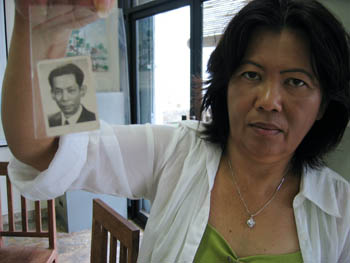 Out of the Poison Tree
USA/Cambodia, 2006
Directed by Beth Pielert
56 min., in English and Khmer with English Subtitles
Saturday, November 10 - 1:00 p.m.
On the eve of the long-awaited Khmer Rouge trial, an American survivor of the genocide returns to Cambodia hoping to unlock the mystery of her father's disappearance in 1975. Thida Buth Mam's quest intersects with many silent voices: widows, survivors from remote villages, monks and even former perpetrators. Her search for the truth stirs up the fractured pieces of one family's nightmare, unearths an unimaginable heartbreak and ultimately shines light on a people's broken silence.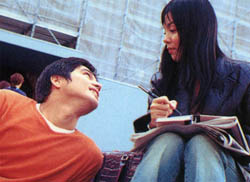 Milan
Philippines, 2004
Directed by Olivia M. Lamasan
135 min., in Tagalog, Italian and English, with English Subtitles
Saturday, November 10 - 2:30 p.m.
Charming and naïve Lino (Piolo Pascual) leaves his family in the Philippines when he realizes that his wife, working illegally in Italy, has gone missing. When he arrives in Milan, Lino meets Jenny (Claudine Barretto), who shows him the ropes. Self-assured and driven, Jenny is the anchor of the local community of Filipino migrant workers; she helps people find housing and jobs, as they struggle to make ends meet and send money home. And she helps Lino look for his wife. As Lino and the others stay on in Milan, their goals and dreams shift, their ties to the Philippines change, and new relationships develop among them. Documentary-like interviews with migrant workers in Italy are interspersed, revealing the harsh realities and ambiguities of their situation. At the same time, Filipino stars Pascual and Barretto give the film a glamorous lift, as the camera sweeps through Italy 's scenic beauty.
View Trailer (trailer does not have English subtitles--our apologies)
Awards:
• Best Actor (Piolo Pascual), Best Actress (Claudine Barretto), Filipino Academy of Movie Arts and Sciences (FAMAS) Awards 2005
• Best Actress (Claudine Barretto), Film Academy of the Philippines (FAP) Awards 2005
• Best Editing, Gawad Urian Awards 2005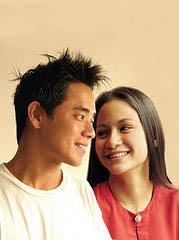 Sepet
Malaysia, 2005
Written and Directed by Yasmin Ahmad
102 min., in Malay, Hokkien, Cantonese, and English, with English subtitles
Saturday, November 10 - 6:00 p.m.
When Jason (Ng Choo Seong) meets Orked (Sharifah Amani) at the street market where he sells pirated videos for a living, the attraction is immediate. The two come from different social worlds – she is middle class, Muslim, Malay, headed for academic success and an overseas scholarship; he is ethnically Chinese, working class, entangled in gang politics – but none of that seems to matter as they get to know each other and fall deeply in love . "Sepet" is Malay for "single eyelid," but pejoratively it means "slit eyes," and is an ethnic slur against Chinese in Malaysia. Yasmin Ahmad's second in a series of films about the character Orked makes a plea for tolerance, as it exposes some of the tensions and inequalities in multi-ethnic Malaysian society in this moving story of intense first love.
Director's notes (from Yasmin Ahmad's blog):
http://yasminthestoryteller.blogspot.com/2004/
08/sepet-notes-from-writerdirector.html
Awards:
• Best Asian Film Award, 18th Tokyo International Film Festival, 2005
• Grand Prix, Creteil International Women's Film Festival 2005
• Best Film, Best Original Screenplay, Best Poster, Best Supporting Actress (Ida Nerina), Most Promising Actor (Choo Seong Ng), Most Promising Actress (Sharifah Amani), 2005 Malaysian Film Festival]
• Gold Award Winner, 9 th Malaysia Video Award, 2004

Singapore Dreaming (Mei Man Ren Sheng)
Singapore, 2006
Directed by Colin Goh and Yen Yen Woo
105 min., in Mandarin, Hokkien, and Cantonese Chinese and English with English subtitles
Saturday, November 10 - 8:30 p.m.
"The 5Cs"—cash, credit card, car, condo and country club—are the stuff of Loh Poh Huat (Richard Low)'s dreams, but his salary as a lawyer's clerk will hardly suffice. The entire Loh family face frustration and dissatisfaction as they try to "make it," Singapore style. Poh Huat's son (Dick Su) has just returned from studying in the US but cannot find a job, while his daughter (Yeo Yann Yann) and her husband (Lim Yu Beng), pregnant with their first child, struggle for material success in low-level jobs they don't like. Their mother (Alice Lim Cheng Peng), meanwhile, has long since cast aside her own desires in order to be a good wife. When Poh Huat wins $2 million in the lottery, the money seems like it will solve all of his family's problems, but it proves to be a mixed blessing to say the least. In the end, everyone must re-evaluate their goals in life. Singapore Dreaming is a poignant, yet darkly humorous story about a typical Singaporean family dealing with loss, ambition and the search for what really matters in life.
Directors Goh and Woo are the creators of Singapore's popular satirical website, TalkingCock.com. This film grew out of the enormously popular response to their 2000 essay "Paved With Good Intentions," in which they professed their disillusionment with Singaporean society's ideals for achieving happiness.
The essay: http://singaporedreaming.com/blog/?q=node/6
Film Website: http://www.singaporedreaming.com/index.htm
Awards
• Audience Award for Narrative Feature, 30th Annual Asian American International Film Festival, New York City 2007
• Best New Screenwriter, 2006 San Sebastian International Film Festival
• Nominee, Best Asian Film Award, 2007 Tokyo International Film Festival

The Malaysian Consulate in New York City, Unit for Criticism, Dept. of Anthropology, Dept. of East Asian Languages and Cultures, Unit for Cinema Studies, Dept. of Speech Communication, Illinois Program for Research in the Humanities, Dept. of Linguistics, Women and Gender in Global Perspectives Program, Program in Comparative and World Literature, Gender and Women's Studies

Last Updated:
October 18th, 2007