Other AEMS Film Screenings
Past Screenings
AEMS/Asian American Studies Film Screening: New Year Baby
In English
Tuesday, April 15, 2008, 8:00 pm
Asian American Cultural Center
1210 W. Nevada St., Urbana
FREE - run time: 74 min.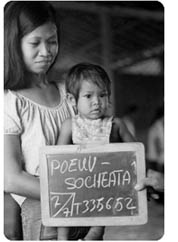 Presented in conjunction with the Southeast Asians in Diaspora Conference.

"My father pruned our trees in a sarong with a kitchen cleaver. My mother stored stinky fermented fish under the sink. My parents made us go to Buddhist temple on Saturdays and Bible study on Sundays. In some ways, they never left Cambodia though we lived in Dallas, Texas.

In fact, they were desperately trying to forget their past. They are survivors of the Khmer Rouge genocide, and it's something they almost never talk about.

They call me "the lucky one." Though conceived in Cambodia, I was born on New Year Day in a refugee camp in Thailand after the horror was over.

One Christmas Day, my parents called a family meeting. They sat down my brother, two older sisters and me - to reveal secrets after 25 years. My mother told us that my two sisters aren't actually my sisters, but the children of my mother's sister, orphaned when their parents were killed by the Khmer Rouge. We learned my older brother isn't actually my full brother, but my half brother - the surviving child from her first family. My mother's first husband and daughter died in the genocide. This was the first I'd heard of them. It was the first for my brother too. In that room of shocked and tearful children, my father got up and in his character, locked himself in the bathroom.

My parent's revelation raised more questions than it answered, so I became determined to document the full story, and returned to Cambodia to learn more and make this film.

This documentary gives voice to my family's story, on their way to becoming Americans."

--from a statement by Socheata Poev, filmmaker

Visit website
The Blood of Yingzhou District
In Chinese with English subtitles
Tuesday, February 19, 2008, 7:00 p.m.
Armory, Room 101, 505 E. Armory Ave., Champaign
FREE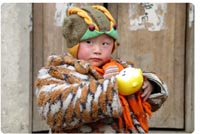 The Blood of Yingzhou District follows a year in the life of children in the remote villages of Anhui Province, China, who have lost their parents to AIDS. At the same time, the film exposes the tragedy of the impoverished Chinese as they are practically forced to donate blood in order to eke out a living, ignorant of the unsafe medical practices that would cause them to contract AIDS.
Awards:
Academy Award®, Best Documentary – Short Subject, 79th Academy Awards Ceremony
Excellence in Media Award, Global Health Council Annual International Conference, 2007
Winner, Audience Award, Thessaloniki International Documentary Film Festival, 2007
Winner, Grand Jury Award, Silverdocs Documentary Festival, 2006
Winner, Humanitarian Award, Chicago International Documentary Festival, 2007
Winner, Jury Prize, Documenta Madrid Film Festival, 2007
Winner, Jury Prize, RiverRun International Film Festival, 2007
Official Selection, Margaret Mead Film Festival, 2006
Official Selection, United Nations Association Film Festival, 2006
Visit Website
Article - Washington Post
Article - Vancouver Sun
China Blue
In English and Chinese with English subtitles
Wednesday, January 23, 2008, 7:00 p.m.
Armory, Room 386, 505 E. Armory Ave., Champaign
FREE

China Blue shows us a sweatshop in southern China from the inside. We follow the daily lives of two teenage girls who work on the assembly line sewing blue jeans, get to know the factory owner, meet buyers from the U.S. and Europe. The filmmakers get remarkable access to the sweatshop from the top down (some of it clandestinely) and even follow the girls home to visit their families. The film shows us the human side of a cruel system. Highly recommended for teens and adults; there is no age-inappropriate material.
Awards:
Audience Award Winner, PBS Independent Lens
Silver Chris Award, Columbus International Film & Video Festival
Amnesty Human Rights Award, International Documentary Festival Amsterdam (IDFA)
Award of Excellence, Society for Visual Anthropology, American Anthropological Association
Nominated, Joris Ivens Award, IDFA
CINE Golden Eagle
Silver Plaque, HUGO Television Awards, Chicago International Film Festival
Honorable Mention, Vancouver International Film Festival
Best Documentary, International Independent Film Festival of Mar del Plata, Argentina
Honorable Mention, Vermont International Film Festival
Visit website
Review - San Francisco Chronicle
Review - Boston Globe
Vietnamese Film Screening: Buffalo Boy
In Vietnamese with English subtitles
Wednesday, October 17, 2007, 7:00 p.m.
The Humanities Lecture Hall on the first floor of 805 W. Pennsylvania Ave., Urbana
FREE
As a prelude to our upcoming Asian Film Festival 2007: Southeast Asian Popular Cinema, the Asian Educational Media Service (AEMS) presents a screening of Buffalo Boy, the debut film by American educated Vietnamese writer and director Nguyen-Vô Nghiem-Minh on Wednesday, October 17, 2007 at 7pm. The screening will take place in the Humanities Lecture Hall located on the first floor of 805 West Pennsylvania Avenue in Urbana.
Filled with striking images of rural South Vietnam, Buffalo Boy is a coming of age story set in Vietnam's colonial period that portrays the harsh conditions peasant farmers endure in the flood plains of the Mekong Delta. Kim, our protagonist in Buffalo Boy, recounts his first experiences herding the family water buffaloes during the rainy season and how he came to learn the tragic story of his parents.
A full review of Buffalo Boy can be found in our Fall 2007 issue of AEMS News And Reviews, now available online.
AEMS & Japan House Film Screening: The Lover's Exile: Bunraku Puppet Theatre of Japan
In Japanese with English subtitles
Wednesday, September 19, 2007, 5:30 p.m.
Japan House, 2000 S. Lincoln Ave., Urbana
Introduction by Professor Elizabeth Oyler
FREE
Join us for an evening of bunraku, Japan's classical tradition of puppet theatre, in the serene surroundings of U of I's Japan House. This film by Marty Gross is the only filmed adaptation of a full bunraku performance. Professor Elizabeth Oyler, a specialist in medieval Japanese narrative and performance in the Dept. of East Asian Languages and Cultures (EALC), will provide an introduction. The Lovers' Exile is an adaptation of Meido No Hikyaku (The Courier for Hell), a major work of classic Japanese dramatist Monzaemon Chikamatsu (1673-1724). Set in early eighteenth-century Japan, it tells the story of Chubei, a young messenger in love with a low-class prostitute at a local tea-house. He uses his clients' money in order to free her and the two flee the town, but are only able to briefly delay their tragic fate. Performed by the celebrated Bunraku Ensemble of Osaka.
For more information on other Bunraku events this fall, please check the Japan House calendar or call 217-244-9934.
This film was reviewed in the Fall 2007 issue of the AEMS newsletter.
AEMS/EAPS Film Screening: Makiko's New World
Thursday, April 19, 2007, 7-9 pm
Humanities Lecture Hall, AEMS/IPRH Building
805 W. Pennsylvania, Urbana
FREE
Professor Emeritus David Plath will take us through the production of his film, Makiko's New World (1999), alternating between showing scenes from the film and discussion and questions on the filmmaking process.
AEMS/EAPS Film Screening: Drumming Out a Message
Thursday, April 26, 2007, 6-8pm
Humanities Lecture Hall, AEMS/IPRH Building
805 W. Pennsylvania, Urbana
Discussion with filmmaker, Yoshitaka Terada, visiting professor in Ethnomusicology, to follow
FREE
Drumming Out a Message: Eisa and the Okinawan Diaspora in Japan
(2003; English version 2005) is a film about the relationship between the experience of displacement and the construction of identity for Okinawans living in mainland Japan. The eisa is a form of dance performed in Okinawa during the summer bon festival, but when a tradition of performing eisa was newly established in Osaka in 1975, it was for completely different purposes. Young Okinawan workers who were struggling to construct a positive identity in their geographical and cultural displacement, found in eisa a much needed outlet for self-expression that was suppressed in the presence of the mainland Japanese. The film tries to capture the voices of these young migrant workers from Okinawa and second-generation Okinawans who, through the process of performing eisa, act on the derogatory images in mainstream culture, and at the same time transform themselves into individuals more resistant to the onslaught of such images.
Korean Documentary Film Festival, March 2007
>More Info
Last Updated January 9, 2008.