Asian Film Festival 2008: Young in Japan

Wings of Defeat: A Teacher Workshop on Japanese Kamikaze Pilots in World War II
Monday, September 29, 2008
4:00 - 7:00 pm
FREE - Pre-registration required
Champaign Central High School, Library Lecture Hall
610 W. University Ave, Champaign, IL
Gary Mukai, SPICE, Stanford University
Rodger Purdy, History, John Carroll University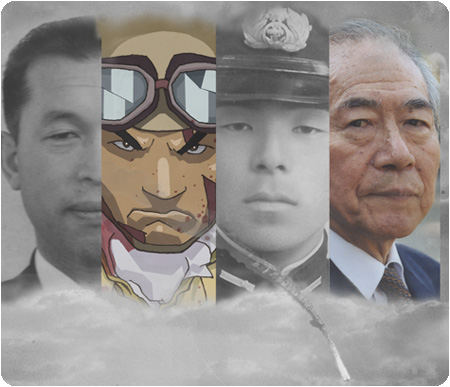 This workshop will introduce and contextualize the 2007 documentary film Wings Of Defeat as a tool to teach about Japanese and World War II history. More information on the film, including a trailer, is available here: http://www.edgewoodpictures.com/wingsofdefeat/
It is best suited for secondary educators, although educators of all levels (K-12 and undergraduate) are invited to attend.
The Workshop:
Wings of Defeat is a remarkable film re-evaluating the experiences and legacy of Japan's suicide pilots of World War II, the legendary kamikaze, featuring intimate interviews with surviving kamikaze. Upon learning of her uncle's secret past as a surviving kamikaze pilot, Japanese American director Risa Morimoto was inspired to track down former kamikaze pilots—now in their 80s—who thoughtfully recall and share their fears, their ambivalence, their patriotism and their guilt as survivors, when thousands of their comrades perished during Japan's most desperate hour at the end of World War II. Co-produced by Japanese-born writer Linda Hoaglund, the documentary is a rare opportunity to hear the perspectives of those who trained for, flew, and survived suicide missions, as well as Americans who survived such attacks.
The workshop will begin with a presentation by Roger Purdy placing the kamikaze in historical context by looking at the conduct of Japan's war in China and the Pacific, and the strains it put on the Japanese people. Purdy will also look at the origin of the suicide squads in Japan, and the military government's affirmative presentation of this strategy for "certain victory" to the Japanese people.
We will then watch the shorter, 56-minute version of the film. The longer, 90-minute version, will be screened on Saturday, October 4, at the Asian Film Festival.
Following the film screening, Gary Mukai will introduce a teacher's guide that he recently developed for Wings of Defeat. The guide helps to contextualize the film and to make it accessible to secondary school students through small-group activities and the examination of quotes from the film.
We will then share a Japanese meal, with time for discussions and questions.

General information and materials on Japan will also be provided.
CPDU credit is available to teachers.
Presenters:
Roger W. Purdy is associate professor of history and coordinator of East Asian studies at John Carroll University in Cleveland, Ohio. He received his BA in History and Asian Studies from Brigham Young University and his Ph.D. in History from the University of California, Santa Barbara. He is currently doing research on Japan's wartime news media with special focus on Japanese wartime newsreels.
Gary Mukai is the director of the Stanford Program on International and Cross-Cultural Education (SPICE). Before joining SPICE in 1988, Gary was a teacher in Japan and in California for ten years. He is a graduate of the University of California, Berkeley, and Stanford University.

Download registration form
Registration Deadline: Monday, September 22, 2008
Registration Fee: FREE
Please complete and send the registration form to the Asian Educational Media Service:
WW II Teacher Workshop Registration
Attn: Jason Finkelman
Asian Educational Media Service
805 West Pennsylvania Avenue
Urbana, IL 61801
FAX: (217) 265-0641
Tel: 217-265-0640
email: finkelma@illinois.edu
More information on the film Wings of Defeat, including a trailer
More information on Asian Film Festival 2008: Young in Japan
Last Updated July 27, 2012