A Virtual Village
Peter Gottschalk and Mathew Schmalz, Designers
Anne Loyer, Art direction and interface design
(Part of Wesleyan University's Learning Object project)
Homepage of A Virtual Village
A Virtual Village, created by Peter Gottschalk and Mathew Schmalz and housed at Wesleyan University, takes us to an Indian village in the northeast Indian state of Bihar, given the fictional name of Arampur (to protect the privacy of its residents). Interactive technology invites visitors to wander through the village using maps containing links to places and people. In 360-degree panoramic views, we visit temples, mosques, and shops; observe everyday village activities like eating, shopping, carrying wood, going for medical help, and visiting shrines; and listen to people speaking about their lives in the three languages of the village, Hindi, Urdu, and Bhojpuri (with English translations).
A Virtual Village is an effective way to introduce students to life in an Indian village, to help them begin to understand villagers as individuals with articulated perspectives, concerns, and systems of shared meaning. Clearly a product of many years of field work and academic analysis, A Virtual Village draws in visitors with its fun technology and interactive visuals, and keeps them returning to Arampur by offering layers of substantive narratives to explore. Organized with clear menus to facilitate searching for specifics like art, architecture, and gender, the site also offers reflections on how the village is affected by its proximity to the ancient city, Banaras, and the reaches of 21st-century globalization.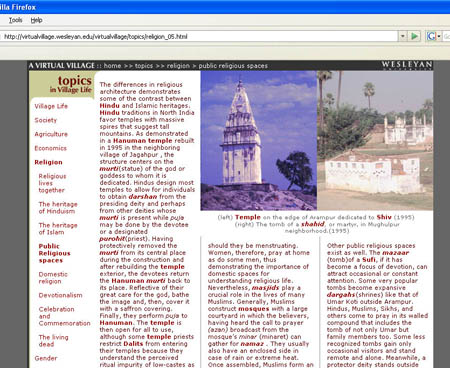 Topic Page on public religious spaces
When I first came upon the website, I was looking for ways my undergraduate students might learn about religious traditions as they are practiced in villages in India. I saw very quickly A Virtual Village's usefulness and appeal. But as I continued to explore, I realized that I, too, was quite engaged and didn't want to leave Arampur. Although I have visited probably hundreds of sacred places in India over the last thirty years, I wanted to see the shrines in this village, to find out what these shops were selling, and to browse their photo collections. Having spent most of my time in Maharashtra, Gujarat, and several parts of south India, I was curious to learn what these residents of Bihar had chosen to document about their lives: the bicycle repairman who works near the bus stand, the ninth grader who runs a tea shop, and the wife and mother who cares for her large extended family—cooking meals, braiding hair, bathing water buffaloes, and laughing with friends.
One section, called "My Life," was created by giving cameras and 24-exposure rolls of film to residents of the village and asking them to take photos of their daily lives. Posted with the residents' own captions, these photo narratives allow the villagers to speak directly to the web audience without commentary from the American authors. By including their perspectives in this way, along with a plan to ask them to view the site and respond to it once the village receives Internet capability, the authors address a concern raised in some quarters about how accurately American anthropological research represents the voices of the Indian communities they study. Although no anthropological work can be entirely free of author input, A Virtual Village offers a creative solution to the inherent difficulties of communicating different perspectives.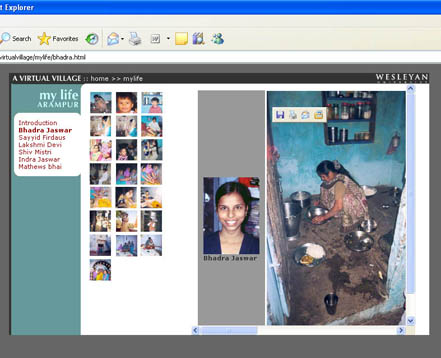 A My Life page
One of the most interesting vignettes in the My Life section recounts a discussion between Mathew Schmalz and a group of schoolchildren and their teacher. The questions are the wonderfully direct and guileless inquiries of children, and Schmalz does a great job of answering each question with genuineness and honesty. The children ask: Why did the use of neckties begin? In America do people also fight and quarrel? Who do you like most: Hindustani girls or American girls—who are the most beautiful? Do you believe in Paradise and Hell, like Muslims?
For those not familiar with India, the authors have provided an excellent and easy-to-use glossary that includes words in Hindu, Urdu, and Bhojpuri, the three languages of the village. A click on a glossary entry opens a window with a definition, a photo when appropriate, and links to places on the website where the word appears.
Hindu, Urdu, and Bhojpuri Glossary
In terms of the nuts and bolts of the technology, compliments go to those who have built and maintain the tools that make the site effective. For example, a click allows one to move to different parts of the village by scrolling through a map. Another click produces an interview with the person in view. When I ran into a slight glitch using the map function, I tried the "report bugs" link at the bottom of the page. The email link connected me to a helpful person at Wesleyan University, and when next I returned to the site, the map worked perfectly. Such diligent monitoring of an academic website is a laudable on-going accomplishment.
Finally, the authors Gottschalk and Schmalz, under the Teaching Materials link, explain that their village should be understood in a larger context.
..."A Virtual Village" imperfectly depicts only one of almost 600,000 Indian villages and should not be taken as "representative" or "average." Students (and teachers) engaging in the study of any culture for the first time often fall into the easy trap of turning observations about a specific community into universal claims about an entire culture. As in all cultural studies, students often need help in rejecting claims about "all" in favor of "some," "many," or "most."
While it is true that Arampur cannot be generalized to represent all Indian villages, it is an excellent place for students to begin exploring.
Using some of the best tools of web-based interactive technology, the authors have consciously created a unique two-way forum, a place for village residents to be heard and for students to listen. American students learn about Indian village life as they enjoy the interactivity of the site and use technology that works smoothly. A Virtual Village sets a new standard for 21st-century educational texts by offering the substance of academic depth in an easy-to-use interactive web environment.
Catherine Benton is Kenneth and Harle Montgomery Assistant Professor in the Humanities and Chair, Asian Studies Program at Lake Forest College.
Last Updated November 30, 2007