Learning from Asian Art: Korea

Curriculum Unit. Produced by the Philadelphia Museum of Art, Division of Education, 2005. Includes: videotape, CD-ROM, slides, prints, guide
Study areas: Korea, East Asia, art, history, aesthetics, anthropology, social studies, folklife, religion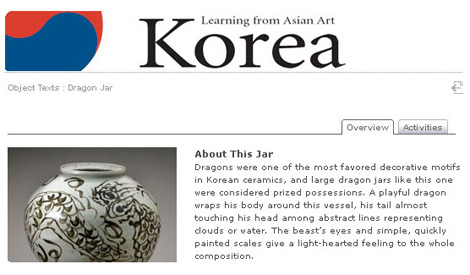 The Philadelphia Museum of Art has created a high-quality teacher's resource kit, Learning from Asian Art: Korea; for teaching about Korean arts either in an art class or as a supplement to general studies on Korea. The kit centers around sixteen works of art ranging from utilitarian pieces made in the Silla Kingdom (57 BCE) to 21st century paintings. The sixteen artworks from the museum's collection are beautifully photographed and ready to share with students in the form of slides, digital PDF files, and full-color prints of ten of the objects on 8.5"x11" cardstock.
An easy-to-use teacher's guide provides additional in-depth information on each piece, along with a reproducible map of Korea, a comparative timeline, a glossary,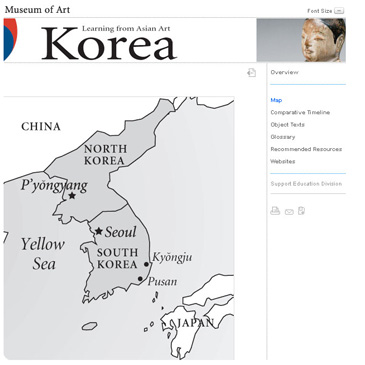 and guided questions for engaging students as they look at each piece. Additionally, ideas for expanding the lesson are included with each piece, including a suggested art activity, a group activity and topics for further research. For a teacher interested in developing lessons for teaching about Asia, an included resource list provides a quick start for finding supplemental texts, works of art, museums, books and websites. A short video, Mountain Dreams: Contemporary Ceramics, featuring the work of Yoon Kwon-cho, is also included in the kit (VHS tape). All of the aforementioned materials are also available in a digital format on the included CD-ROM.
This kit is an absolute must for any teacher of ceramics because of the exceptional examples included: ceramic roof tiles, a melon-shaped wine ewer, a cosmetic case with inlaid designs, an incised flask from the 15th century, jar forms with intricate cobalt underglaze, and the contemporary constructions of Yoon Kwon-cho. The teacher's guide elaborates on ceramic construction techniques, form & function, and symbolic imagery in a sufficiently thorough manner that would be appropriate for late-middle to high school-aged learners. The effective 8-minute video on Yoon shows his combination of contemporary and traditional techniques, his inspiration in Korean landscape and culture, and his works.
As the title suggests, the focus of the kit is on art. However, Learning from Asian Art: Korea is practical and infinitely adaptable for a wide range of ages, content areas and length of study. It offers a broad range of Korean historical artifacts that delve into Korean life and art, beyond the typical images of celadon pottery and kimchi vessels for which Korea is most popularly known. This resource collection explores architecture, pottery, woodworking, sculpture, calligraphy, interior design, scroll painting, fashion, cosmetics, folktales and religion (Buddhism and Confucianism). Learning from Asian Art: Korea is a tremendous resource for bringing treasures of Korean art into the classroom.
Resource kits for China and Japan are also available in the Learning from Asian Art series.
Stacey Gross is an art teacher at Centennial High School in Champaign, Illinois. She has traveled to South Korea and Japan through the National Consortium for Teaching About Asia and the Japan Fulbright Memorial Fund Teachers Programs and has been incorporating lessons on East Asia into the curriculum over the last fifteen years.
How to Obtain: The entire teaching kit is available online without charge at: http://www.philamuseum.org/booklets/5_29_46_1.html. The kit may also be purchased (including slides, image reproductions, teacher's guide, video, and CD-ROM) for $39.95 by contacting the Philadelphia Museum of Art (email: wholesale@philamuseum.org; phone: (800) 329-4856 or (215) 684-7957), or visiting the Philadelphia Museum of Art Store in person.
You may also be interested in the companion kits:
Learning from Asian Art: Japan
Learning from Asian Art: China
Last Updated November 11, 2008