How-to-bow.com
by Nora Krug
Study Areas: Japanese language and culture, social studies, cross-cultural communication, anthropology
Designed by award-winning illustrator Nora Krug, how-to-bow.com is an entertaining and informative website that introduces users to Japanese etiquette and social customs. The website is divided into three short animated films that walk users through scenarios on how to "Make Business," "Have a Drink," and "Visit Home." Users can watch each film at their own pace while reading the accompanying text to learn how Western visitors should conduct themselves in various social settings in Japan.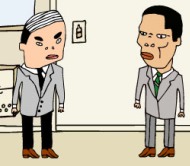 The information provided in the text is extremely detailed and advises users on how to navigate the complex social hierarchy that structures Japanese social life. There are useful tips on everything from gift-giving to the proper way to exchange business cards to, yes, how to bow. Along the way, the website introduces the background behind each of these customs in remarkable detail and is thus a useful resource for learning about both Japanese culture and history.
The first film, "Make Business," takes users through a typical business scenario as it follows Mr. Yoshida on his visit to a Tokyo office for a business meeting. Mr. Yoshida must first meet and greet various representatives of the office and exchange business cards ( meishi ) with the executive in charge. Each of these interactions varies depending on the individual's status within the company, and the film does well to explain (if not entirely demystify) the Japanese business hierarchy.
As Mr. Yoshida proceeds to the boardroom for his presentation, we learn the proper protocol for conducting a business meeting: be short and to the point, refrain from making jokes or gesturing wildly, try not to make eye contact, and don't be overly concerned if the most senior person in the room nods off while you are speaking as it may just be a sign that he considers you trustworthy. Given that Western businesspeople have long struggled to adapt to Japanese business practices, these are perhaps the most useful segments of the film.
In "Have a Drink," we follow Mr. Yoshida and his colleagues to an izakaya (Japanese-style bar). In Japan, time spent drinking with coworkers after hours is an essential part of professional life because it gives colleagues an opportunity to get to know each other in a relaxed environment. While the emphasis on drinking culture in this film is not appropriate for younger users, there is useful information on how to place orders in restaurants, on the proper way to pour drinks (one should never fill one's own glass, for example), and on the history of karaoke and its role in fostering positive social relations among business colleagues.
The third film, "Visit Home," is the most interesting and useful for general users and would be a tremendous resource for anyone preparing for a visit to Japan. Although Japanese people tend not to invite guests into their homes very often, this film provides essential information for foreign visitors to Japan, including tips on when to remove one's shoes, the important social custom of gift-giving, and how to eat sashimi properly. Perhaps the most entertaining and useful scene in this film explains how to use a Japanese-style toilet, a source of confusion (and occasionally embarrassment) for many first-time visitors to Japan.
The explanations provided in how-to-bow are at times so detailed and extensive that they tend to exaggerate the extent to which social interactions are prescribed in Japan. Nevertheless, the site is a useful resource that helps to decode some of the social practices that have long mystified Western visitors to Japan. While the first two films are aimed primarily at western businesspeople, the content of all three films would be useful for anyone preparing for a visit to Japan and for those who have a general interest in Japanese culture and history.
In the classroom, this website could be used as a terrific tool at the college level in introductory courses on Japanese culture and society. With the exception of the film on drinking, it would also work well in a high school classroom. The text accompanying each film is lengthy enough that the website itself could be used as a reading assignment in order to foster discussion in class. Alternatively, in smaller classes students might be asked to work in groups to perform scenes from each of the films while providing context and historical background for their classmates.
Rebecca Nickerson is a Ph.D. candidate in modern Japanese history at the University of Illinois and Graduate Editorial Assistant at AEMS. Her research focuses on gender, body, and domesticity in imperial Japan.
http://how-to-bow.com by Nora Krug
Users should note that they can preview each of the three films for free, but a one-time fee of $3.99 is required to view all three films in their entirety.
Last Updated June 19, 2007