Planet of Snail

Directed by Seungjun Yi. 2012. 87 minutes. In Korean with English subtitles.
Study Areas: South Korea, physical disability, marriage.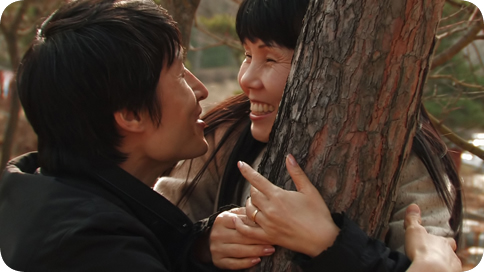 Hearing that this documentary is about a South Korean couple ‒ a deaf-blind husband and his wife who has a spinal deformity ‒ it would be easy to presume that this film is dark in tone. This would be very plausible given that the concept of disability has been portrayed very negatively, particularly in the South Korean context, where disabled people have mainly been conceptualized as recipients of benevolent assistance. The Planet of Snail disrupts this presupposition; it is a strikingly bright and peacefully beautiful love story. In several occasions in the film, Young-chan, the husband, narrates his poems. "The darkness and silence [which] were with God… came to me." But Young-chan's darkness and silence can be shattered by his bridge to the world – Soon-ho, his wife.
This film shows the language that the couple uses to communicate with one another and the world, and how this language builds the kind of marriage that ordinary people, and in particular those who do not have physical disabilities, long to achieve. Young-chan and Soon-ho communicate with each other by touching hands. Soon-ho's fingers touch the back of Young-chan's hands, as if typing braille. If Soon-ho does not speak while she touches his hands, the viewer cannot understand what she says. Fingers and hands, or rather the sense of touch constructs a language all of its own. Young-chan feels the spring by quietly hugging and touching the tree. Obviously, this world moves slowly. Young-chan says, "Feeling heavy in my heart, I am dying to run." But he cannot, he can do so "only in my [his] imagination." This is why he lives in the planet of snail.
In this slow world of snail, the couple lives as one person. Young-chan takes a Hebrew exam while Soon-ho translates the questions through her fingers; Soon-ho types while Young-chan composes an essay, and Young-chan checks the spelling of the essay with braille. On the surface, some viewers might think Soon-ho sacrifices a lot for Young-chan, because she translates every word of Young-chan's that they hear. Without Soon-ho, Young-chan would not be able to communicate with the world. However, it is hard to say who is more dependent, because both invite each other into their respective worlds. For instance, when Young-chan hugs, touches and smells the tree to feel spring, Soon-ho asks what he is doing. He says he is "dating the tree" and soon invites her to join his date with the tree. This is a gesture to bring Soon-ho to his world, just as Soon-ho always takes Young-chan's hands to illustrate how she sees the world.
Loneliness is another keyword for the couple. Soon-ho quietly and slowly talks about the days when she lived in the countryside, before she met Young-chan. She listened to the radio in the house all day and cried in the rain so that her tears would blend with the falling rain. As Young-chan says, "perfect loneliness" was what brought them together. This is a love story of two people standing side by side, rather than a story of sacrifice of one to another in the name of love. Also, this is a love story of two people who are deeply anxious about what might happen if they cannot die on the same day. Ironically, we can witness the practice of an ideal marriage of modern society through this couple – Young-chan and Soon-ho, who would seldom be imagined as the subjects of intimate and sexual relations.
When Young-chan and Soon-ho walk down the road side by side, they look like father and daughter because Soon-ho is so short. But this image is soon inverted when she teaches him how to fly a kite and where to touch to change a ceiling light In terms of the relationship between the couple and the rest of the world, the film also subverts the presumed relationship of beneficiaries and donors. For example, Young-chan and Soon-ho become advisers for actors and actresses who are rehearsing a play about a deaf-blind person. Yong-chan, who never watches television, even writes a screenplay, which is then performed. Through the quiet portraits of their daily lives, they show how far ordinary bystanders might misunderstand them by making presumptions about them and their relationship to the world.
Young-chan calls himself an "astronaut" – a "deaf-blind person with the heart of an astronaut," because "being isolated, not talking to anyone, I am left in space alone." He struggles to learn the language of the earth, but he knows, unlike others, that "the eyes, ears and heart of a man are easily hypnotized." Instead of learning with eyes and ears, which "are caught in obsession or are in the swamp of the ego," he teaches himself the life of astronaut. Like an astronaut, Young-chan uses the language of the universe, and becomes a poet for the earth. Like astronauts, Young-chan and his wife struggle to walk on the earth with gravity; yet, they show Earth-dwellers what love is.
In his interview with a South Korean media outlet, the director, Seung-jun Yi said that he made a great effort to create poetic images rather than delivering direct messages, particularly by focusing on sound. His efforts are rewarding in that the sounds he uses sometimes assist viewers in imagining how Young-chan might listen to the world. For instance, when Young-chan is alone in a car without Soon-ho, the background sounds become blunt and droning sounds, as if to reflect how he hears the world without the help of Soon-ho. Watching the couple in the film, viewers realize how much they rely on visual and auditory cues in daily life and neglect their tactile and olfactory senses. Thus, this film asks the limits of knowledge and understanding of the world that is filtered only through our eyes and ears by questioning the concept that seeing is believing. In this regard, this film might be good material in the classroom setting, which can provide students with a chance to think of the concept of disability – how the conventional idea of "dis"-ability is not enough to understand the other side of it. In other words, this couple's love story suggests contemplating who the "dis"-ables are; maybe we are "dis"-able to understand the depth of tactile and olfactory senses, unlike the couple.
Dohye Kim is a PhD candidate in anthropology at the University of Illinois, Urbana-Champaign. She studies South Korean young retirees migrating to the Philippines after the Asian financial crisis in the late 1990s.
Planet of Snail is available for purchase from Cinema Guild.
To find out more about the film, watch trailers, and learn the kind of braile used by Young-chan in the film, visit the Planet of Snail website.
Last Updated: January 20, 2015.